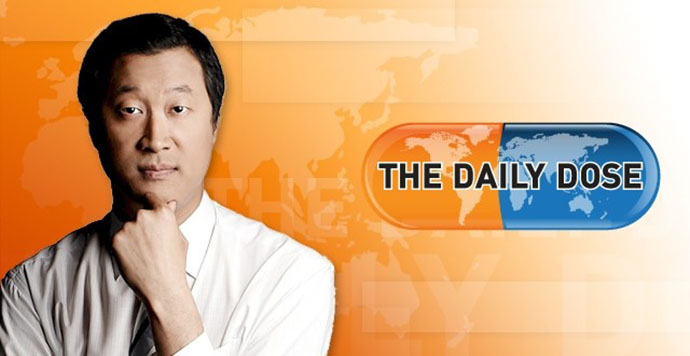 BANGKOK — A news director at Voice TV said Wednesday it is discussing how to "tone down" a popular news analysis program after broadcast regulators ordered it suspended for seven days.
Prateep Kingsib, senior director of Voice TV news, said the station had no choice but to comply after a state broadcast regulatory committee voted 3-to-1 to suspend The Daily Dose program for one week on the grounds it "caused division in society and presented partial facts" in violation of the ruling junta's order No. 97/2014.
The lone dissenting commissioner, Supinya Klangmarong, pointed out in a Tuesday night Tweet that the broadcast committee is "very quick and strong" to punish media for political content but slow to protect consumer rights from being trampled.
Prateep said he disagreed with the ban, which came in response to a Jan. 23 segment of the show discussing the roles of the judiciary and military.
The decree by the junta, which styles itself the National Council for Peace and Order, was passed after the May 2014 coup. It bans broadcast media from criticizing the junta, its officials and related people.
Prateep said the program merely presented facts, with host Nattakorn Devakula merely discussing the the judiciary and the military between 2006 and 2014 on his daily program.
"We are confident that our program was truthful. But we have to accept the decision. We have to adjust the program to reduce the risk," Prateep said. "We're discussing it."
Host Nattakorn Devakula, whose father was a deputy prime minister of the present regime, said he's not discouraged as it "comes with the territory" of living under military dictatorship.
"Censorship of this type is never fair, especially when the regulatory agency can make an anchor disappear for a week by a simple order," Nattakorn said.
He noted the chilling effect of such censorship means he will "have to be more careful choosing my words" when he returns to the air, as his ultimate goal is "to stay employed" and "fight for the freedom to express in the long term."
Voice TV is owned by the son of ousted and fugitive Prime Minister Thaksin Shinawatra and has been censored by the authorities acting through the National Broadcasting and Telecommunications Commission before.
In August the channel voluntarily pulled a pundit and host Nattakorn from the air to avoid censure. It didn't work – two weeks later regulators ordered its Wake Up News program off the air for allegedly affecting state security and "the good morale of society."
The suspension will go into effect when the station receives formal notification.
Related stories:
Voice TV Deepens Self-Censorship by Cutting Political Coverage