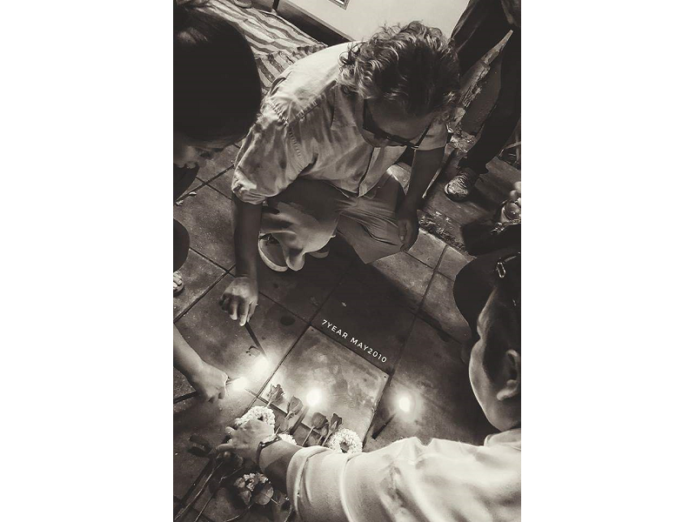 May is a loaded month for Thai politics. In 1992, from May 17 to 20, hundreds of thousands rose up against military dictator Suchinda Kraprayoon, who made himself prime minister, to demand the country be led by one elected by the people. Fifty-two people mostly drawn from the middle class, according to the official account, were mowed down and hundreds others injured, mostly by military gunfire. Suchinda granted himself immunity before resigning.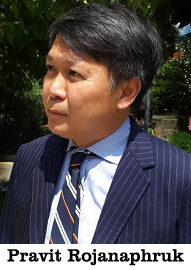 Then comes May 2010 when Redshirts, calling for then-PM Abhisit Vejjajiva's administration to dissolve the parliament and call elections, clashed with soldiers, leading to a death toll of 99 by the time the protest was quashed on a violent day, May 19. The overwhelming majority of those killed were civilians. No one has been held accountable, and it looks as if no one ever will.
There's also the most recent coup of May 22 led by current junta leader Gen. Prayuth Chan-ocha in 2014. Prayuth has already granted himself immunity from any past, present and future wrongdoing – so don't worry about him. Prayuth, who was responsible for violating civil and political rights since the coup, detaining dozens of dissidents without charge, this writer included, insisted just this past Tuesday, less than a week before the third anniversary of his rule, that he has been working "200 percent" hard. This is how Prayuth argues futilely for his legitimacy and place in history.
So many Mays to remember, and so many ways to remember them.
Today, the fight is on for how these things should be recalled in the collective memory.
The May 1992 uprising has pretty much faded into distant memory, not only because 25 years have passed, but because society has largely failed to internalize its lessons, particularly by younger Thais, that we should never be led by the unelected.
Some key figures, such as then-student leader Parinya Thewanaruemitkul, now a Thammasat University administrator and lecturer, played no role opposing the latter coups of 2006 and 2014.
Much more contentious are the memories of May 2010. Earlier this month, the junta banned any public ceremonies to remember those killed, including Redshirt-supporting renegade army officer Maj. Gen. Khattiya Sawasdipol, who was assassinated by a mysterious sniper on May 13, 2010. His daughter, Kattiya Sawasdipol, persisted in demanding the right to commemorate her father. She was eventually allowed five minutes to place a candle, flowers and pray at the spot near the southwest corner of Lumphini Park where he was slain. Others were barred from participating.
The same restrictions were imposed on Pansak Srithep, father of Cher Srithep, who was killed seven years ago on May 15. Non-family members were barred by the military regime from being right on the spot where Cher was gunned down on Rang Nam Road. It was barricaded. Fearing people would forget and wanting to honor his son who was killed aged 17, Pansak, who became a staunch anti-junta activist and a key member of Resistant Citizens, made a square metal plaque with his late son's etching and a message in Thai and English and embedded on the footpath 6 years earlier. The message in English reads: "Cher laid down his life here."
Despite the physical suppression, it couldn't stop many netizens from marking the incidents on Facebook and Twitter, however. Looking back to the incidents seven years ago, it's mind-boggling to think how calling for then-PM Abhisit to step down eventually led to the killing of 99 people including Redshirts, bystanders and soldiers – but mostly reds.
In first two cases, it's clear the military junta doesn't want the deaths to become part of Thai society's collective memory. Collective political memories are what make us who were are.
It's clear the military regime doesn't want people to remember the negative roles played by the army. So will there be a ban come Monday on the three-year anniversary of the May 22, 2014 coup. The last thing the regime wants is for people to gather and remind others how it came to power.
We are not just what we eat but we are what we remember, and the illegitimate powers that be do not want us to remember the inconvenient truth that the army has, time and again, been on the bloody and brutal side of politics.
The past is never quite dead unless we are quiet or made to forget. When we forget, we risk repeating the same mistakes. Many young Thais don't even know that 25 years ago, over 50 people died so Thailand could be assured of elected prime minister. Today many support unelected dictator. Society's trajectory doesn't always move forward.
The past is never quite dead and is often invoked to serve the present and thus the future. The battle for the past is not just a battle for the past but for the present and the future. We don't know who we really are if we don't remember what we have collectively achieved and what failures were made as a society.
We risk being trapped in an ahistorical state where inconvenient memories are removed or suppressed from our collective memories through induced amnesia. In an open and democratic society, the past ought to be contested, with different people giving different readings from diverse perspectives. The month of May is a special month where the battle for our collective political memory rages on.