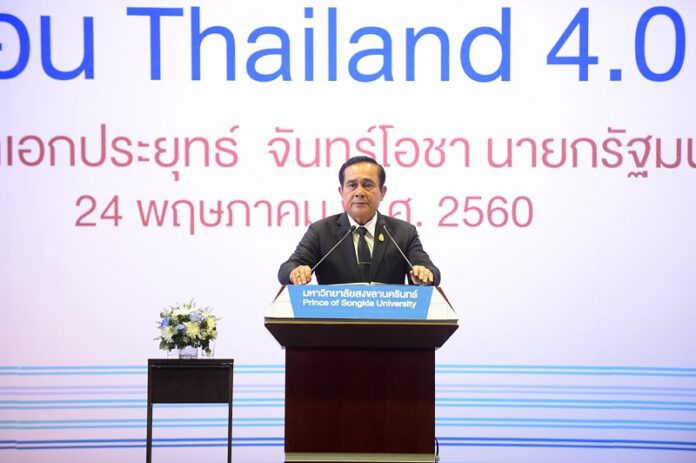 If the military junta which staged the coup in May 2014 was a brand, what kind would it be?
Forced Sales and Marketing
Marketing-wise, products and services need to advertise and differentiate themselves to win consumers' hearts in the hope of closing the deal. The National Council for Peace and Order, or NCPO, relies on a much hard sell through tanks and guns.
Marketing and advertising come afterward. Chief marketing officer Gen. Prayuth Chan-ocha has been getting free airtime every Friday evening for over three years now for an unrelenting sales pitch to convince captive consumers how wonderful the NCPO's brand is. Prayuth tries hard with his monologue sales pitch but acknowledges himself the program's ratings are far from successful.
This is not something to be too worried about, however.
After-Sales Service
People who are not convinced by Prayuth's advertising have very limited means to complain about the after-sale service and the product. Anyone wanting to publicly complain about the brand being substandard or defective, risks being detained without charge for "attitude adjustment."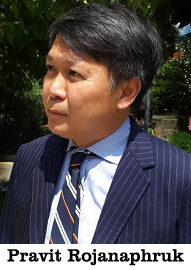 "Consumers" more visibly upset could take to the streets at their own perils, as there's a ban on political gatherings of five or more people imposed by the junta. Worse still, those who continue to complain that the product is shoddy, risk facing sedition charges. It's much safer to simply buy into what Prayuth says. On Tuesday, he told a conference discussing UN-backed rights principles in Bangkok that he had been working to improve human rights for the past three years. Yes, this is neither joke nor typo, and there was no sign Prayuth was incapacitated by any substance.
At times, the after-sale service also doesn't work. Prayuth who also acts as the chief after-sale-service officer, often gets irritated with complaints about his company's product and services. On Tuesday – and not for the first time – Prayuth became sulky and told the media he won't be speaking directly to them for the next few weeks.
If you don't know how to handle the product and services, there're after-sale staff – or military officers in this case – who are willing to visit you in person to spend quality time trying to convince you why their brand is indeed not just necessary, but also the best one in the kingdom.
A Lifetime of No Warranty
Most products come with limited warranty, some with lifetime warranty. Warranty coverage that lasts one or two years for luxurious Swiss watches is common. The NCPO does not provide any kind of warranty. This is because the junta is not responsible for any defects or malfunctions in their products and services as they have granted themselves indemnity – not just for their past and present actions that could be wrong and unlawful – but for their future actions and misbehavior as well.
With most products, people sort of know how long they will last. The shelflife of NCPO products and services seem ever extendable, unpredictable and could last a lifetime. Three years on since the coup, Prayuth kept deferring the expected election date delivery from 2015, to 2016, to 2017. Now you risk becoming a fool believing that he won't defer it again by next year.
The Brand
Leading brands strive to excel, leaving customers with satisfaction and memorable user experience. Some brands evoke reliability, full-satisfaction or assured good time. What about the junta? To those unhappy about the coup, Prayuth and his band of armed men evoke repression, unpredictability and illegitimacy. But hey, Brand NCPO is so 'exclusive' it's the only one on earth that's currently offering military rule to 'consumers'. You can't get more exclusive than that!
Three years on, those fed up with the NCPO can only look forward to more complimentary repression in the months – if not years ahead – as the junta promise you an extended experience of complimentary stay in Juntaland Thailand.
While many had never chosen the junta's services to begin with, Prayuth is doing his mighty best to make us believe we should be grateful to be "enjoying" his special product. Like it or not, the junta has been imposed upon us.