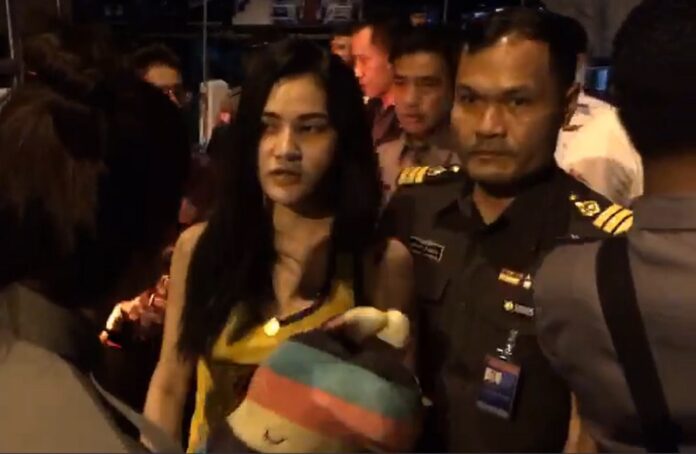 CHIANG RAI — Three fugitive murder suspects, one of which stands accused of sawing her victim's body in half, were arrested for overstaying their border passes Saturday night in Myanmar and turned over to Thai authorities, police said.
Myanmar police arrested Preeyanuch "Preaw" Nonwangchai, 24, Apiwan Sattayabundit, 28, and Kawita Ratchada, 25, for overstay and handed them over to Thai authorities at about 9pm on Saturday through the Thai-Myanmar border in Chiang Rai province. The three, sought in the gruesome killing and dismemberment of 22-year-old Warissara "Amm" Klinjui May 23, will be charged with murder in Thailand and with overstaying in Myanmar.
Chiang Rai Immigration Police Chief Pol. Col. Aekkorn Busababadin said the suspects had been taken to Bangkok and that police would hold a press conference about the matter at 3pm on Sunday.
Preeyanuch, who has a record of drug-related crimes according to Sirinya Sidhichai, a top official from the Narcotics Control Board, is believed to have been working for one of the biggest drug dealers in Tachileik, Myanmar. She stands accused of dismembering Warissara, whose body was found buried in two large buckets last month in Khon Kaen.
Police said Preeyanuch appeared stern and tired as she was being taken into the custody of Thai authorities Saturday night.
Authorities believe the murder is part of a revenge plot.
Another suspect, Wasin Namphrom, 22, was arrested late last month and told police the four had planned to assault Warissara because they believed she had tipped authorities about one of their boyfriends, arrested for drug-related charges.
The case gained attention on the internet over the past week and became a social media sensation due to the grisly nature of the murder.
Related stories:
Dismembered Woman's Final Words: 'If I Survive, Then You Die'
3 Women Wanted in Grisly Murder Not Arrested in Myanmar