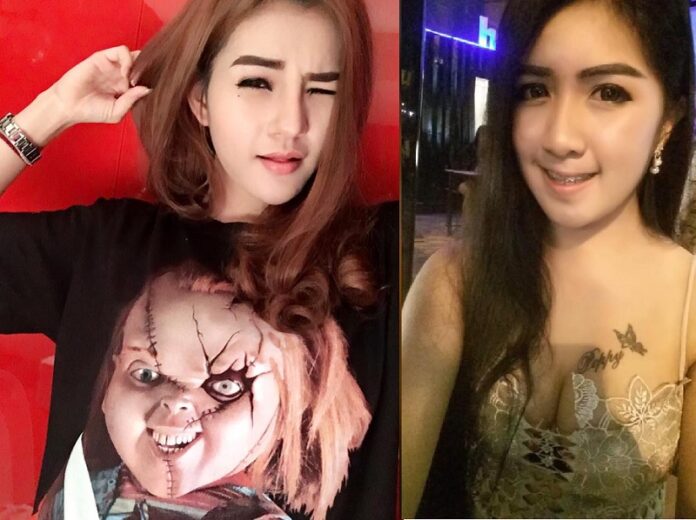 KHON KAEN — A woman accused of murder told her sister she only meant to hurt her victim as an act of revenge – at least until the woman threatened to kill her if she survived the attack. That's when she allegedly sawed her in half.
That's the story police said they got from Prapasiri Somsri on Wednesday, whose sister Preeyanuch "Preaw" Nonwangchai remains on the run along with two others for the gruesome May 23 murder.
"She said she and her friends only planned to lure her somewhere to assault her in revenge," Prapasiri, 34, said, recounting a Monday night phone call in which her sister allegedly described the murder. "But then the woman said, 'If I survive, then you die,' so she became enraged."
As police hunted for 24-year-old Preeyanuch and the other two suspects, they led a fourth suspect already in their custody through "re-enacting" the grisly crime today.
Wasin Namphrom, 22, showed police the spot in Khon Kaen province where he and the other suspects allegedly buried Warissara "Amm" Klinjui, a 22-year-old employee at a local karaoke joint, after sawing her body in half.
Wasin Namphrom shows police Wednesday the spot they allegedly buried Warissara Klinjui in Khon Kaen province.
The murder case emerged Thursday, when Warissara's remains were discovered.
The case has gripped headlines not just for the grisly details of the murder but also tabloid-ready imagery available from social media of the young, attractive suspects.
Police have since named five suspects in the case – three of whom have fled to Myanmar.
Wasin was arrested Tuesday in Vientiane, Laos. He told police he and three female friends lured Warissara into a car in the early hours of May 23.
He said they had planned to carry out a revenge plot on behalf of one of their group members, 24-year-old Preeyanuch "Preaw" Nonwangchai. Preeyanuch believed Warissara had snitched on her boyfriend who was then arrested on a drug-related charge.
After luring Warissara into a rented car, Wasin said Preeyanuch was the only one to assault her – and ultimately, strangle her to death in the vehicle.
The four drove to rent a room at a resort in Khon Kaen city, stopping along the way to buy supplies, including plastic bags and a saw. That's where Preeyanuch sawed the body in half, placing each half into two large plastic buckets, Wasin said.
They later drove to bury the buckets in Khao Suan Kwang district, approximately 60 kilometers away.
Resort employee Korakot Thathongboon, 20, said Preeyanuch and company rented a room on Thursday and left without paying. She said they left a strong odor in the room.
Police said they are looking for Preeyanuch and the other two suspects, 28-year-old Apiwan Sattayabundit and Kawita Ratchada, 25. Police said all three escaped into Myanmar and were last seen Tuesday in the Burmese border town of Tachileik.
A fifth suspect, Wasin's girlfriend Jidarat Phromkhun, was also arrested but has denied involvement in the murder.
Jidarat, 21, reportedly told police she met the four suspects in Bangkok on the night of May 23, at which point they went to sell Warissara's mobile phone.
A day after the murder, Preaw posted a photo to Facebook showing four people holding hands with a caption reading "On the day I fall, I still have you guys giving me support. Thank you for trusting and believing in me #Wewillbeholdinghandslikethisforever #Loveyouguys"