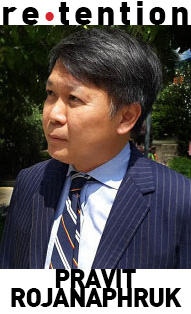 Sometimes I wish that understanding and describing a society like Thailand could be simpler, without complexity, tension and contradiction. Like a coin with just one side.
Thursday, the day the late king, King Bhumibol Adulyadej, was cremated, serves to remind how hard it is to grasp a society in all its complexity.
Covering the day for this publication 16 hours, starting at 8am, it was clear to me that so many Thais, millions, tens of millions, were in grief, bidding final farewell to their beloved king who reigned for seven decades.
Black-clad mourners, men and women, young and old, from all walks of life were on the streets around the cremation site. And I talked to some. Their love and reverence for the late king, also known as Rama IX, was unquestionable. Many mourner-volunteers offered fellows mourners free food, refreshments and more. A number of businesses around Sanam Luang, the cremation site, offered free access to their toilets.
Many people queued for hours, overnight even, and some had camped a few days in advance, sleeping in the rough around the cremation site, withstanding heat and rain, all sorts of discomfort, so they could be close to the body of their beloved monarch, one whom they regarded as their "royal father" or "พ่อหลวง" for one last time.
It appears that the whole kingdom stood still and was totally united in grief. Yet I would be lying or closing my eyes to not recognize a small but vocal group of Thais who have lost faith in the monarchy and took the opportunity on the historic day to express contradictory feelings, displeasures, particularly on social media.
Some of these anti-monarchists are in exile, probably never to return to Thailand due to the draconian lese majeste law. At home, former lese majeste convict Ekachai Hongkangwan got into trouble after he announced on his Facebook page less than a week before the cremation day that he would wear a red shirt on the day, a clear sign of disrespect for the late king's cremation day.
By Tuesday morning, barely four days after the announcement, Ekachai rang me sounding slightly terrified, saying 11 army officers were at his home and making him choose between either taken to a military base or checked into a "resort" in Kanchanaburi province for a few nights. That was the last time I could contact Ekachai this week.
Human Rights lawyer Anon Nampha later wrote on Facebook the same day that Ekachai informed him he chose the latter. As of Friday afternoon, Ekachai had yet to be released by the military junta after three nights' stay although Anon told Khaosod English it could be today, Saturday.
Ekachai wasn't alone. On the day of the cremation, a 20-year-old technical college student in Surat Thani province in the south got into big trouble for posting a number of attacks on the late king on Facebook. This was followed by a witch hunt as series of strangers visited his residence after a well-known Facebook page from the same province "doxed" him, publicizing his name and address and urging action to be taken. By the following day, some people helped him flee the province. His fate from now is unclear.
Elsewhere, in neighboring Laos, a group of exiled anti-monarchist singer-cum-activists performed a concert against the draconian lese majeste law, which carries a 15-year maximum prison term, and against the late monarch, on the day of the royal cremation.
I wish Thai society was simpler and without contradiction and complexity. I would have been more emotionally comfortable to just think and believe there is only one Thailand – that all Thais think alike about the monarchy. I wish I could just pretend that there's not another side to that coin, not another Thailand. Thailand would have been easier and simpler to grasp, not just intellectually but emotionally. Looking at both sides of the coin, or society, often spoils both sides of the coin.
There seems to be no place for a complex rendition of Thai society, however. Books either extol all the virtues of the late king or are banned for alleged defamation. The most extensive attempt in publishing a popular compendium on Rama IX was completed by Sarakadee Press, which is known for its eponymous features magazine. The book contains 309 entries and is 400-pages thick, but makes not one mention of the controversial lese majeste law. Perhaps to be a true believer in someone, one needs to extinguish or ignore inconvenient information.
Sometimes I long for a simpler society, where one doesn't get distracted by counter-narratives and contradictory information, so one could be consumed by only one convenient version of Thailand. I wish society would be simpler, like those in children's bedtime stories, where good and evil are clear-cut. That's a child's dream and not realistic, however.
It's better I be condemned to seeing both sides of the coin – of course there are actually more, considering the edge – and continue to intellectually as well as emotionally grapple with the complex reality of our society.
Sometimes I wish understanding Thailand was simpler… But then it would be too naïve and simplistic to harbor such expectations.