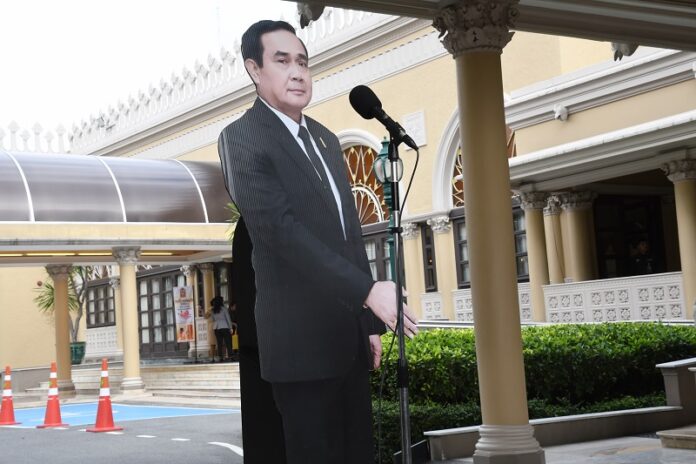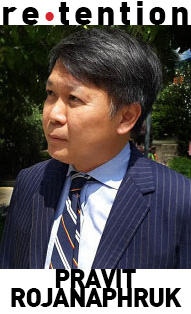 By placing a life-size cardboard doppelganger of himself for reporters to interview, junta leader Gen. Prayuth Chan-ocha on Monday puzzled both reporters and the public as to his intent.
People naturally interpreted differently what they saw in his antics Monday at the Government House depending on their worldviews and biases.
Let's start with a positive interpretation. The act could be seen as Prayuth being a prankster. By placing a life-size cardboard stand-in to answer reporters' questions on his behalf, one could see coup leader-cum-PM Prayuth as someone with a sense of humor, even self-deprecating, as some may laugh at what he did.
It has to be noted that Prayuth also flashed a hand symbol of love before telling journalists to question his cardboard twin instead.
Others may not be as inclined to see the move as humorous and good-natured, however.
Those who think Prayuth truly enjoys jokes at his expense should not forget that back in April 2016, eight people, the so-called Facebook 8, were taken from their homes in dawn raids, detained and later charged with sedition and other serious crimes for merely operating a satirical Facebook page called "We Love Gen. Prayuth."
On the other hand, one can read his latest antics as a dictator who demeans and patronizes the press.
The cardboard cutout of Prayuth is like a scarecrow to scare reporters away from performing their duty by scrutinizing Prayuth and displaying the junta leader's contempt for public scrutiny.
Ask his paper doppelganger and there will be no answer.
A mock interview by Government House-beat reporters with the mock Prayuth would have been intriguing to watch, even material for a viral video. None of the Government House reporters dared to even mock the cardboard stand-in of the dictator, however, despite Prayuth himself telling them tongue-in-cheek that his paper twin would answer questions on his behalf.
For all the claims by Prayuth that he's tolerant to criticism, Government House reporters once again last month did not dare come up with their traditional year-end monikers mocking Prayuth and other members of the military government. That's irrefutable proof that, beneath the veneer of cozy relations between the press and regime, fear is an part of the cocktail that informs their relationship.
Whether one likes Prayuth's antic or not, it was an act by a dictator with absolute power. He does what he wants even if he risk insulting others or even himself.
Prayuth may not be aware that he is undermining his own reputation by carrying out such buffoonish stunts. After three years and eight months, and repeated false promises about returning power to the people, there's not much reputation left for the junta leader to salvage, however.
Others may see the stunt as a tactic to distract attention from the ongoing saga of 20-plus mysterious luxury watches on the wrist of his deputy, Gen. Prawit Wongsuwan, or the question whether Prayuth himself broke anti-corruption laws by recently purchasing three puppies at a higher rate than the asking price.
In the final interpretation, even though reporters have failed to question Prayuth's cardboard twin, his paper doppelganger speaks volumes about Prayuth himself.