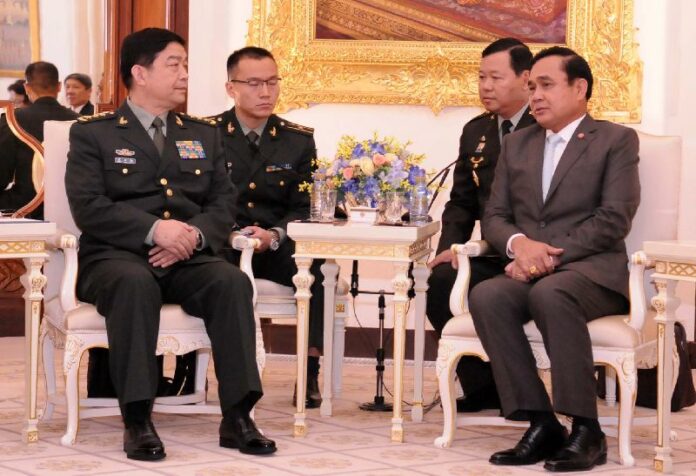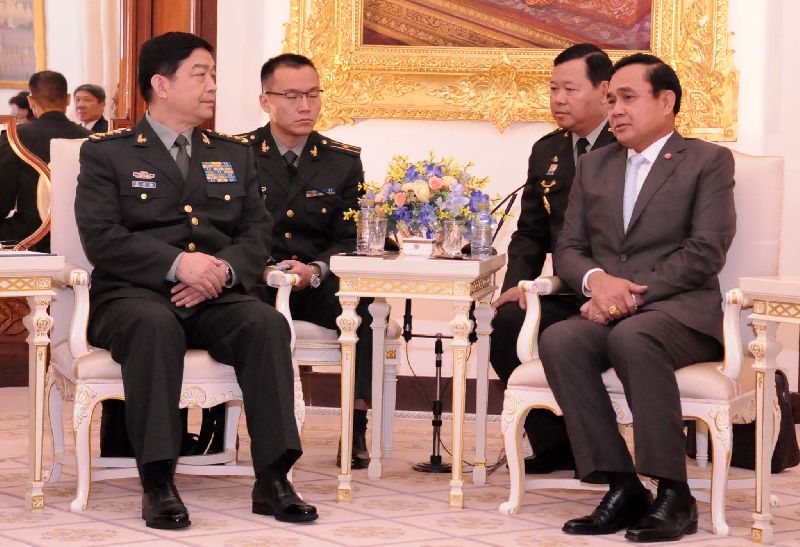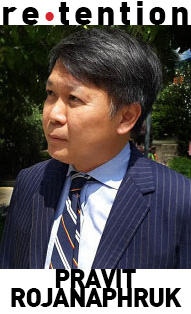 It is impossible to overlook the growing influence of China in Thailand.
Durian prices have surged in recent years due to soaring Chinese demand. Chinese buyers earlier this year overtook the Japanese in foreign condominium purchases in Bangkok. Its tourists account for the largest group of visitors, with Kasikorn Bank Economic Research Center predicting upward of 10.6 million will arrive this year, an increase of 6.3 percent to 8.4 percent. One need only lay eyes on the throngs of Chinese travelers visiting the Grand Palace and Temple of the Emerald Buddha for anecdotal evidence.
Signs at Zen Department Store, one of the largest mall retailers in downtown Bangkok, are written not in Thai but in English and Chinese.
Over the past two weeks alone, I've heard four scholars such as Chulalongkorn University's Thitinan Pongsudhirak, Thammasat University's Prajak Kongkirati and Larry Diamond of Stanford University, publicly warn how the rise of China bodes ill for human rights and democracy in Thailand and Southeast Asia.
Prajak said the Thai junta leaned on China after the May 2014 coup amid pressure from the United States, the European Union and Australia, which has enabled the junta to remain in power for 51 months now.
Are these so-called experts paranoid?
Well, China is a one-party communist state with rampant human rights abuses, especially of those opposed to the regime, so it's hard, if not ludicrous to think about China caring for issues such as democracy and human rights. What's more, democratic powerhouses such as Japan and South Korea failed to put any pressure on the Thai coup-makers as well. To them, it's business as usual.
The difference is that China has become much more influential in Thailand compared to Japan or South Korea.
In the book "Thailand Shifting Ground between the US and a Rising China," author Benjamin Zawacki recounts being told by security expert Panitan Wattanayagorn, who eventually became an advisor to junta leader No. 2, Gen. Prawit Wongsuwan, that China was already waiting to exploit the coup four years ago.
"The Chinese have been more sophisticated in approaching Thailand. It is beyond a charm offensive, it had achieved another level in a very progressive approach to the relationship in terms of politics. The Chinese have been very quick in seeing the opportunities that have opened up since the coup of 22 May 2014. They had been preparing for that opening up of opportunities," Panitan was quoted as saying.
Besides being a reliable "friend" of dictators in Thailand and beyond, growing Chinese influence is cultivating an alternative to democracy in Thailand.
Zawacki described how Bangkok-based British scholar Chris Baker described unidentified Thai bankers expressing support for China's "authoritarian capitalism."
"One Thailand scholar recounted how, after the violence of 2010, he began hearing Thai bankers talk openly about China's 'authoritarian capitalism,' before going on to bankroll [anti-government group PCAD or PDRC] before the coup: "They were prepared in a way they hadn't been before to put their money behind the defeat of democracy because of the fear of the masses," Zawacki wrote.
Democracy, human rights, press freedom and free speech are at risk if we ape the Chinese model of politics and administration. This is a real risk.
Democratically minded Thais will have to bear that in mind and do whatever they can to ensure that Thailand doesn't adopt the Chinese political model.
Already, the junta has introduced further restrictions to online expression through the Computer Crime Act, which was amended to even be worse, and seeking to cordon off the Thai internet like China's Great Firewall.
Two weeks ago on Aug. 18, Amnesty International Thailand was stopped from screening a movie on democratic struggle in Hong Kong entitled "Joshua: Teenager VS Superpower" in Bangkok. Special branch police said such screening may affect Sino-Thai relations. Police also cited 2008 Films Act which requires anyone wanting to publicly screen a movie to seek permission from the Ministry of Culture first. The law, with the requirement, was added after the other coup, the 2006 coup.
The risk of orbiting too close to China is that future Thai dictator wannabes and those like-minded pretenders in Southeast Asia will run amok knowing they can count on Chinese support to shrug off any political pressure from the West.
Cambodian strongman Hun Sen has already leaned so heavily on China that he feels secure dropping all democratic norms and ruling indefinitely, thanks to their special relationship. The price for Cambodia is becoming a Chinese client state where grievances will be nurtured and corruption left unchecked due to the decline of democracy and freedom of expression.
In a sign of wariness over China's growing influence and unfair trade, Malaysia's newly elected leader Mahathir Mohamad recently announced the cancellations of USD$22 billion worth of infrastructure projects backed by China as part of its expansive One Belt, One Road initiative.
That the announcement which was made during Mahathir's official visit to China demonstrates the growing wariness about falling into a Chinese debt trap.
The deeper trap of adopting Chinese-style repression meanwhile, needs to be deliberated in Thailand and other ASEAN member states as well.