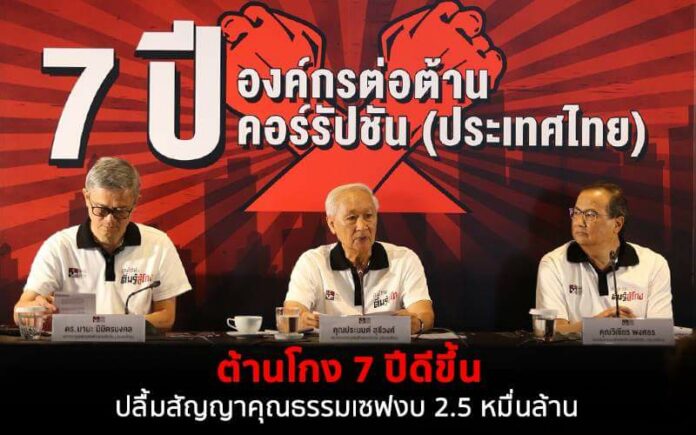 BANGKOK — The head of a private anti-corruption organization has been silent on its decision to award full marks to junta leader Prayuth Chan-ocha in its annual assessment.
Asked to explain how its score was calculated to award the highest possible ranking to a regime that has been marred by corruption scandals, the chairman of the Anti-Corruption Organization of Thailand, or ACT, did not respond to multiple inquiries.
A staff member at the organization said full marks were only given for Prayuth's "sincerity" in tackling the problem.
On Wednesday, at an ACT news conference marking the organization's seventh anniversary, Pramon indirectly acknowledged the scandals that have plagued those around the junta leader, from his deputy to his own brother.
"I give Gen. Prayuth Chan-ocha, the prime minister, full marks. But I admit that there are still a number of people around him that have been questioned by the public," he said.
A leading government transparency activist who himself has launched numerous anti-corruption actions said he was disappointed by the group's decision to afford such an honor.
"Let me say it straight. This is unacceptable," said Srisuwan Janya, president of Constitution Protection Association.
Srisuwan asked how Pramon could make that determination when in 2016, Thailand's ranking on an international transparency index slid 25 places to 101 out of 168 countries.
Srisuwan added that although the ranking rose to 96 out of 180 nations in 2017, it was still lower than that of 2015 and from a wider pool.
Srisuwan noted that a scandal involving tens of millions of baht worth of luxury watches deputy junta leader Gen. Prawit Wongsuwan never declared among his assets has not been seriously probed by the government or ACT.
An ACT staff member said Thursday that Pramon had seen a reporter's questions, including whether he considers staging a coup and monopolizing state funding through the junta-appointed National Legislative Assembly as a form of corruption or not.
He had not responded to them as of late Friday afternoon.
The female employee, who asked not to be named because she was not authorized to speak on the record, defended the announcement by saying Pramon, who was appointed by the junta leader to his National Reform Council following the coup, only gave full marks to Prayuth for his "sincerity" to tackle corruption.
"He must have heard something that made him feels that His Excellency Prayuth was sincere," she said. "He may have had some experience from meeting [Prayuth]."
On social media, some people reacted strongly to the news.
Chamnan Chanruang, deputy leader of the Future Forward Party, wrote that ACT only succeeded in lowering its own score by bestowing such esteem on Prayuth.
Anti-junta activist Kritsuda Kunasean wrote from exile in Germany that "the only corruption that cannot be scrutinized is that of the military regime."
While this debate played out, the junta-appointed National Legislative Assembly took three hours Thursday to approve the military government's 3.3-trillion baht budget for 2019 without a single lawmaker opposing it.
The vote was 206 in support with two abstentions.
The budget saw the Defense Ministry getting the second largest slice of the pie at 117.5 billion baht, behind the Education Ministry's budget of 297.3 billion baht.
The budget for the Interior Ministry came third at 43.9 billion baht.
No assembly member spoke against the proposed budget.