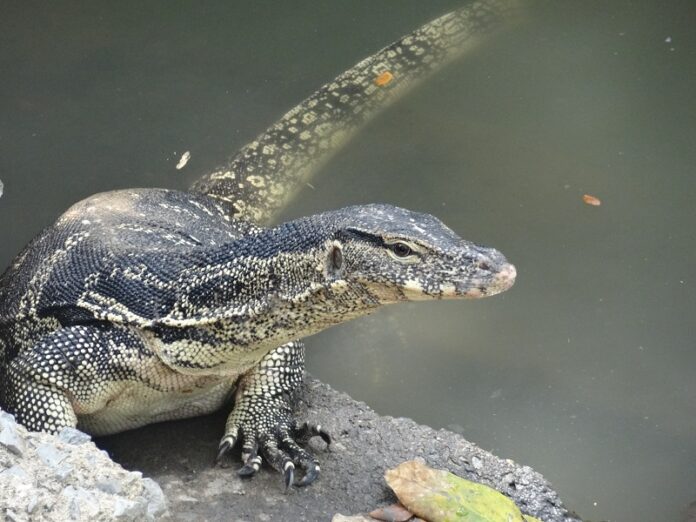 BANGKOK — To settle a dispute over whether Lumphini Park is overrun with monitor lizards, two agencies will recruit the public to conduct the first proper census of the lumbering reptiles.
Bangkok's City Hall believes there are as many as 400 monitor lizards and had asked the National Parks Department to remove some of them to keep the population in check. But the department's director of wildlife conservation isn't buying that number and on Saturday said a census involving more people would yield a more accurate figure.
"The latest population figure for monitor lizards given to us by the [Bangkok Metropolitan Administration] was 400. They said their workers walked around counting them," said Director Kanchana Nittaya. "We told them this method of counting could produce a highly inaccurate figure because the same lizard could be counted again by the time an official walked to another spot."
She said national park workers' have been fielded to reckon the number of reptiles, and came up with only 160.
Read: No More Big Lizards in Lumphini Park?
The two agencies eventually decided to capitalize on the situation. They decided that it's best to make an event out of it to attract both Thai and foreign park users and tourists to count the lizards, which have become loved, or at least tolerated, by park-goers.
The date has yet to be set yet, but Kanchana believes it will prove there is no overpopulation problem. She added that even if there exist too many lizards lived there, simply removing some as City Hall wants wouldn't solve the problem, as there is ample food in the park to fuel their repopulation.
Two years ago, the city embarked on a poorly received effort to remove the lizards, saying they were scaring visitors.
Kanchana suggested removing their eggs as a more effective way to control the population. She added that the monitor lizards draw many tourists who come to the park to see them in their habitat, while Thai visitors have little problem with the creatures, and it's not uncommon to see joggers wait for lizards to cross pathways inside the park.