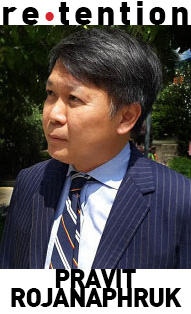 The physical assault against a Chinese tourist by a security guard Sunday in Bangkok's Don Mueang Airport, was a reminder on how service-minded attitude is still low among some Thais in the tourism industry.
It was an unnecessary act which became a necessary reminder of the need for improvement.
Whether the Chinese tourist was really attacked after failing to pay illegal "extra service fees" as he claimed or not, there's no excuse for the security guard to overreact.
It's like one rotten fish ruining the whole industry in the eye of Chinese tourists – who are currently the largest group of foreign tourists in Thailand, with more than 9 million expected to land in the kingdom this year. Captured on video, the incident has been watched by millions in China the past few days.
What a way to promote tourism in Unseen or Amazing Thailand!
While we may be among the most popular tourist destinations in the world – judging from numerous surveys in which cities such as Bangkok, Chiang Mai or Phuket score very high – there is no excuse for complacency, as we compete with other countries and seek to attract repeated visits and quality tourists.
The only way to be sustainable is to improve the quality of the tourism experience, and that requires training and improving the service-minded standard of people working in the industry.
As costs of living continue to rise and the environment strains under the impact of mass tourism – both foreign and domestic – and with many visitors having been to Thailand, it's a challenge to continue growing.
Airport and hotel security guards should be taught basic protocol on how to handle tourists. There is also a need to better train taxi drivers and tuk-tuk operators to be more professional and cordial. Even a campaign for the general public, training and giving tips on how to be better hosts, can help.
We can be good hosts if we place ourselves in their shoes and think about what we would expect if we were tourists in a foreign land.
Be a good host. Be a better host. This shouldn't be too difficult if we see them not primarily as a source of revenue but as fellow human beings, as travelers from a foreign land, and visitors that may need a helping hand if lost – or a friendly smile. Let us see tourists more as visitors, as guests, as potential friends and see ourselves as a good host.
On the other hand, we cannot seriously expect service improvement if those at the bottom of the industry such as security guards, taxi drivers and restaurant waiters and waitresses do not earn a decent minimum income. It is a challenge to ensure that these people earn a decent income so they can be happy, in hope that the overall quality of their services will be better and make tourists happy too.
Speaking long-term, we need to stop relying on being cheaper in order to attract more tourists and improve to offer higher value-added tourism services and experience instead.
The indefinite closure of the famous but over-visited Maya beach announced Tuesday is a crucial move in the right direction, as it places long-term environmental regeneration over short-term tourism gain. We should be thinking about how Thailand can sustain and improve the quality of tourism in the long term, with a stress on service quality and better attitude, not short-term goals which rest in maximizing the arrival of tourists and money.