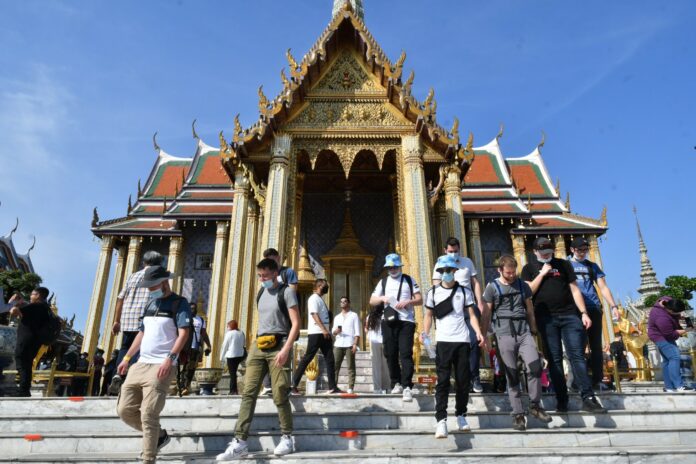 Short of physically blocking and shutting down all the major international airports in Thailand or overthrowing the government, there is nothing that will stop the influx of Chinese tourists back to Thailand starting today. Those who fear that Chinese tourist re-spread coronavirus will have no choice but to take better care of themselves, wear masks, get a booster shot, and avoid crowded tourist venues, hoping for the best for Thailand in the weeks and months ahead.
Many Thais depend on tourism revenues and very much look forward to welcoming back Chinese tourists, forecast by the government to start at around 300,000 in the first quarter of 2023. It has been almost three years where the Thai tourism industry suffered an unprecedented setback due to the lack of Chinese tourists and now virtually all in the industry, including the government of Gen. Prayut Chan-o-cha, are more than eager to take the risk and welcome Chinese, the largest pre-COVID tourist group, back.
After days of debating as a dozen nations including Italy, Japan, and more insisted that arriving Chinese travelers must be tested for COVID-19 upon arrival, Public Health Minister Anutin Charnveerakul declared earlier this week that Chinese tourists would not be discriminated against and will be treated just like those from other countries. Anutin also urged Thais not to bully Chinese tourists.
In the end, the Civil Aviation Authority of Thailand issued a new regulation effective today, Jan. 9, until Jan. 31 requiring all foreigners traveling by air to produce proof that they have received two vaccine doses. What's more, those arriving from a country where they would be required to prove that they are not infected upon returning must possess COVID-19 insurance for the duration of their stay plus an additional coverage of seven days in case they become infected while in Thailand. Some wonder if the Thai government is now shooting itself in the foot.
"Great. So, they want to encourage Chinese tourism, and doing so will inconvenience all other nationalities in the process," comments foreign Facebook user Ben Avenell on Khaosod English on Saturday, following the news about the new regulation. "A political and financial decision, but not a considerate or well-considered one."
Like it or not, Chinese tourists are now back, and the number will likely grow in the weeks ahead. To them I say, welcome back to Thailand, and hope you will understand the anxiety suffered by some Thais about your arrival (because they do not trust your government's low COVID infection and death figures).
Thus, it would be kind of you, Chinese tourists, to make sure that you are not infected before traveling to Thailand so as not to burden yourself and the host country. Also, please wear sanitary masks while traveling on public transport in Thailand. (No need for Hazmat suit unless you want people to stare at you.) Most of us are not racist and we are happy to have you back as long as you take necessary sanity and health precautions.
For Thais who are anxious, I hope you all remain as calm possible as the majority of the Thai people have been vaccinated. This is the real new-normal life, filled with uncertainties, that we all have to deal with. The government in turn will have to monitor and update the public more frequently and be flexible enough to be willing to adjust its policy according to the situation.