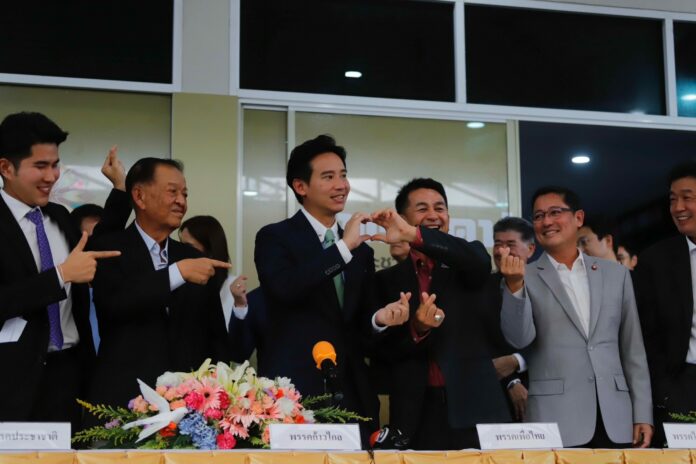 A "political marriage" between the Move Forward and Pheu Thai Party gone wrong leading to a divorce? Unfortunately for many Thais, this is how they perceive the current acrimonious political situation – and they could not have chosen a worse analogy because the political alliance has very little, if nothing to do with romantic love and matrimonial union.
Most mainstream Thai media were partly responsible. They repeatedly framed the alliance like a love story. Not satisfied with their written headlines or verbal descriptions on TV and online, when the now defunct eight-party coalition met at Prachachart Party Headquarters at the northern outskirt of Bangkok two weeks after the May 14 general election, some reporters and photographers asked Move Forward Party leader Pita Limjaroenrat and Pheu Thai Party chief Cholnan Srikaew do make a joined heart shape a la K Pop by joining hands for news consumers at the end of their press conference. It was "love actually" – or was it?
Such romanticization, combined with die-hard supporters of each respective parties adoring their leaders, hyped up so much expectations over the following weeks until Pheu Thai Party eventually decided to ditch MFP weeks following the failure of MFP PM candidate Pita gaining enough votes from the junta-appointed senators in order to become PM.
Acrimonious? That is an understatement. The adoration of the two respective political party and their leaders means Wednesday's unilateral "divorce" announcement did not go down well with MFP supporters who were on that very same day launching a mock procession for the two parties "to tie the knots," complete with a new car strapped with large red ribbon as some Thai-Chinese would do as a gift to the newly wed.
Minutes before they arrived at the Pheu Thai Headquarters, they learned of Pheu Thai's unilateral "divorce" announcement and instead staged an angry protest in front of party splashing red paint at the building and burning effigies.
Someone needs to remind these people that political alliance is transactional and conditional – always subject to change if the conditions are not met. It has nothing to do with love or romance. The wrong analogy sets the stage for a very hostile and toxic political environment, however.
One of my Facebook friends posted that he had lost numerous friends since Wednesday as some of the over-passionate supporters of one of the two parties could no longer bear his views and unfriended him.
The wrong analogy has led to unnecessary toxic feelings and inaccurate assessment of the current political situation. Instead of seeing what might be best for Thailand in general, these red and orange political supporters think of their party first. We need a more precise and applicable analogy to describe and perceive what's happening in Thai politics today. Alas, some continue to stick to the analogy.
On Friday, the United Front of Thammasat and Demonstration (who organized Wednesday procession to the Pheu Thai Headquarters that had gone wrong) launched a new campaign. They are now urging people to call for the renewal of the coalition pack between Pheu Thai and Move Forward, amidst growing concerns that if the two parties remain separated, former deputy junta leader Gen. Prawit Wongsuwan, who is the leader of Phalang Pracharath Party and a PM candidate, may eventually become PM instead of Pheu Thai's candidate Srettha Thavisin.
In the campaign poster disseminated online, the same ubiquitous photo of Pita and Cholnan forming a joined heart with their hands was used anew.