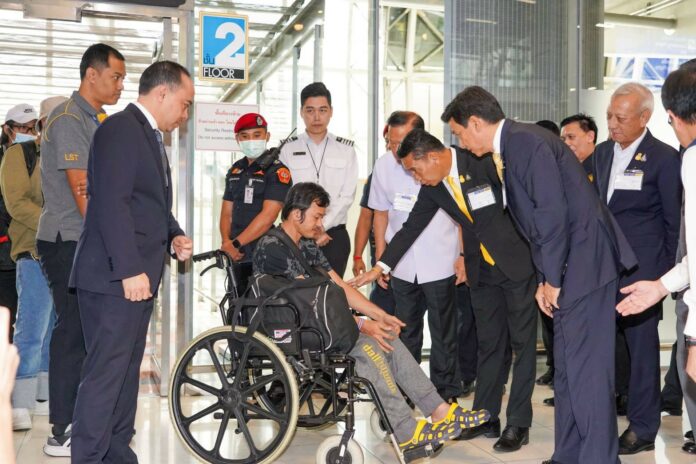 Exactly a week after Hamas' savage and merciless attacks against Israel, PM Srettha Thavisin made it clear that Thailand is not taking side in this war in a faraway land despite 24 Thai workers having been killed in Israel after a week and over ten taken hostage. This follows Srettha's earlier condemnation of Hamas' attacks.
There are likely half a dozen reasons that I could think why Srettha made it clear Thailand will not take sides in this growing conflict.
First, the PM may be concerned that if he takes sides with Israel, Thailand could become a target for Arab and Muslim extremist terrorist attacks in its own soil. With many Arabs and foreign Muslims visiting or staying in Thailand, it is hard to screen or prevent them from launching an attack against Thai targets if they are convinced that Thailand is fully on board with Israel.
Even the Israeli Embassy in Bangkok is not immune. In the words of the Foreign Ministry of Israel, back in Dec. 28, 1972, in Bangkok, "The Israeli Embassy was taken over by four terrorists. Six embassy personnel were taken hostage and were released by the terrorists 19 hours later."
Then comes the brazen and potentially very deadly attempt on March 11, 1994, in Bangkok, as described by the same official source of Israel. "A hi-jacked truck laden with explosives was intercepted on its way to carry out an attack against the Israeli Embassy in Bangkok. After hitting a local motorcycle, the terrorist fled the scene, and the body of the murdered driver was later found in the vehicle by local police."
Second, the Thai government does not want to lose Arab and Muslim tourists that bring in substantial income to the tourism industry, particularly from rich countries like Saudi Arabia, which Thailand only resumed full diplomatic ties with last year. (Saudi Arabia has on Friday, denounced the displacement of Palestinians from Gaza and Israel's counterattack against "defenseless civilians".)
Third, Srettha, and those advising him or persuading him to publicly state that Thailand will not take side, do not see this as Thailand's war despite 24 Thais having been killed and over ten taken hostages. All Thais fatalities and those held hostages probably do not count for much to the elites and the powers that be in Thailand as they are "workers" and "not truly one of us," so the sense of outrage is not palpable. (When these people are at home in Thailand, their role is to serve the Thai elites.)
Fourth, the government does not want to upset Thai Muslims and Thai-Malay Muslims, many of them sympathetic to the Palestinian cause and turn them against the Thai state.
Fifth, the Thai state continues its "pragmatic" foreign policy of sticking to its (short-term?) self-interest first. If needed, "bamboo diplomacy" where Thailand switches sides, bending with the international wind, can be reactivated depending on the latest situation.
Sixth, after a week and many days of counter attacks by Israel and the death toll on the Palestinian side mounting and now higher than the Israeli side, the Thai government probably think sooner than later more countries, and not just predominantly Muslim countries, will criticize Israel for its handling of its retribution war with many collateral damage including children, women and journalists.
A Reuter video journalist, Issam Abdallah, was killed along the Lebanon-Israel border on Saturday by a missile coming from the direction of Israel. Six other journalists, including those from AFP and Al Jazeera were wounded.
Also, a major calamity is awaiting as hundreds of thousands flee their homes in northern Gaza ahead of an anticipated ground incursion by the Israel Defense Forces (IDF).
Back on Monday, I interviewed Israeli Ambassador to Thailand Ms. Orna Gagiv and realized the war touches even the top Israeli diplomat in Thailand. Gadiv told me she will have to send her daughter who has just completed his high school education at an international school in Bangkok off at Suvarnabhumi Airport after the interview to southern Israel to join the army as her country is in a state of war while her son is now with an artillery unit.
Just before the interview on Facebook Live for Khaosod English, I asked the Israeli Ambassador about the update on the deaths and casualties in Gaza due to Israel's counter attacks and she did not want to talk about it.
On record, I asked whether the retribution war will stretch to a third country again like what some European cities experienced in the aftermath of the Black September incident in 1972, where 11 Israeli National team athletes were killed during the Munich Olympic, and was followed by Israel's targeted assassination of Palestinian "terrorist" leaders by Mossad agents, which took place in Rome, Paris, until a botched one where a wrong person was identified and hunted in a small city in Norway led to the arrests of the assassins and the fact about such operation coming public, and the ambassador said she is a diplomat, not a soldier, but there was no assurance that history would not be repeated again.
As much as I am saddened by the attack on Oct. 7 by Hamas, I think it is a challenge for Israel to fight evil acts without themselves resorting to evil acts. With over 1,300 killed in Israel and over 3,000 killed in Gaza, the world will soon have to come up with a more nuanced reaction that takes not just history of the Israeli-Palestinian conflict into account but the latest situation on the ground as well.