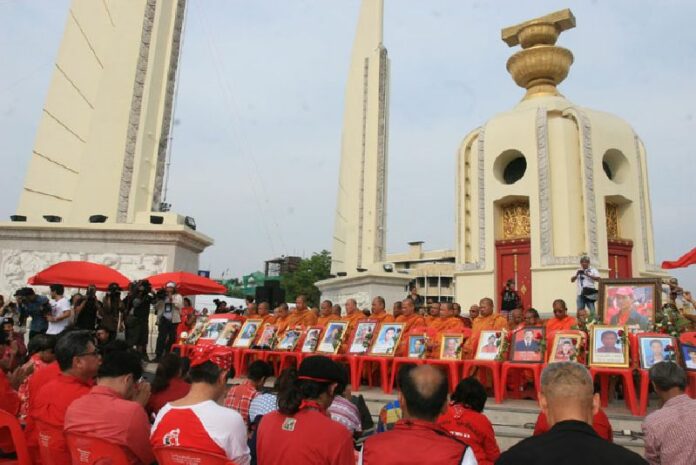 Thousands of supporters of the National United Front of Democracy Against Dictatorship (UDD) took to the streets in Bangkok to commemorate the violent clash between the protesters and the military 3 years ago, in which 26 people were killed.
Vendors and protesters are occupying pavements along Ratchadumnern Avenue, our correspondent reports, while a large rally stage is being installed. UDD representatives have earlier announced that the events to mark the crackdown would last till midnight.
A senior police officer says 4 companies of metropolitan police have been deployed in the vicinity to maintain order, with assistance from traffic police and Bangkok authorities.
On the same day, two Japanese friends of Hiroyuki Muramoto Japanese cameraman, has come to lay flowers and bow in silence at the site where Muramoto was shot dead on 10th April 2010.
Hiroyuki Muramoto, 43 years old was shot in the chest while covering the political unrest involving soldiers and anti-government "Red Shirt" protesters.
He was one of two foreign cameramen (another is Fabio Polenghi the Italian photoghapher) killed during the unrest in April and May 2010. They are among 99 people – mostly civilians – who died in the clashes.