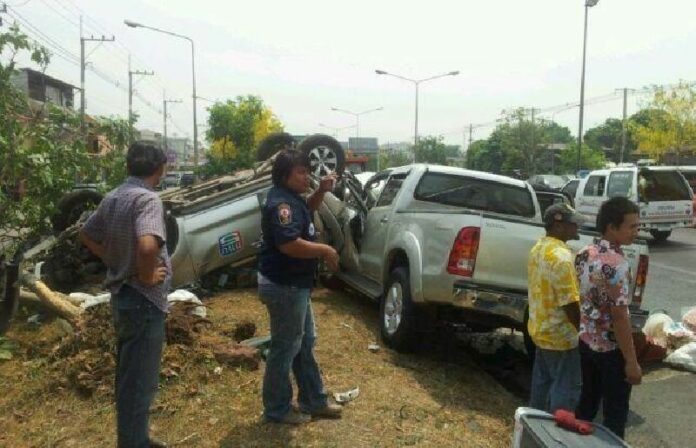 A member of Channel 5 TV crew was killed in Nakorn Ratchasrima province during an assignment about safety on roads throughout Songkran holiday season.
The accident took place near a U-Turn point of Mittaparp Road in
See Kiew District. Upon arriving at the scene, police discover wreckages of a pickup truck slamming
into the back of another pickup truck which belongs to Nakorn Ratchasrima bureau of the Royal Thai
Army Radio and Television Channel 5.
The dead reporter, identified as Mr. Sunet Tawalee, 41,
was found in front of the news crew car. Mr. Sunet′s TV camera was found several metres away. Police
say 7 people are wounded.
Members of the news crew told Police that they were covering a
ceremony to open a center to promote road safety earlier in the morning, which was attended by Mr.
Chatchawarn Sittipat, Minister of Transportation, and many press teams.
On their return
journey, the wounded reporters say, they stopped their car near the U-Turn point and Mr. Sunet got
off to film the footage of traffic in Mittaparp Road while other reporters stayed in their vehicle.
That was when another pickup truck carrying 6 people reportedly slammed into the reporters? car. The
vehicle lurged forward and crashed into a tree, killing Mr. Sunet who was standing in between,
according to the reporters. The pickup truck driver told police he was bringing his family back to
his upcountry hometown to celebrate Songkran festival.
Travel on interprovincial highways in
Thailand during Songkran holidays is notoriously dangerous as millions of Thais return to their
hometowns for the holidays. Drunk driving and dozing off behind the wheels have been blamed for
majority of deadly accidents which occured throughout this period.