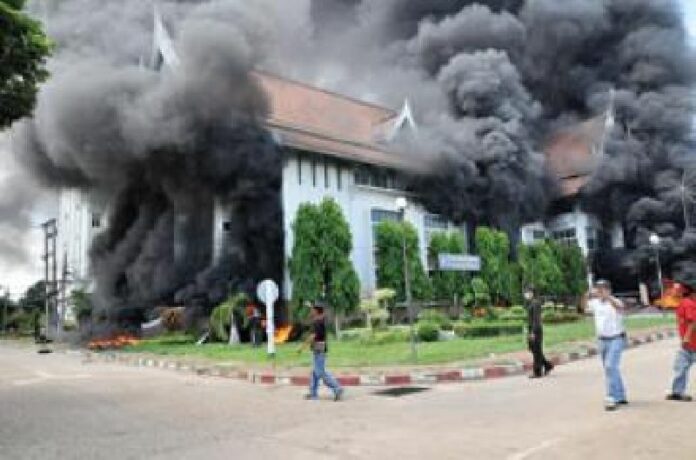 (2 May) The Appeals Court of Ubon Ratchathani province today ruled the case of the Redshirts accused of setting fire to the town hall in May 2010, standing by the civil court's verdict to life time imprisonment for 4 and a lighter sentence for 7, while 2 Redshirts received additional sentences upon discovery of new evidence.
Earlier, the civil court ruled to convict 13 defendants, dismiss 8 defendants, where the
lawyers and attorneys filed for an appeal.
Today, the appeals court have stood by the
earlier verdict. The defendants have proven to disrupt the security of the state, commit acts of
terrorism, and destruction of property, arson of the town hall on May 19th 2010, the judges said.
Miss Pattama Moolmil, Mr.Teerwat Sujsuwann, Mr.Sanong Ketsuwan, Mr.Somsak Prasarnsub to life
time imprisonment, which is eventually reduced to 33 years and 12 months due toadvantageous
deposition.
The 4 defendants were not present at the court ruling because they were being
detained at Bangkok Remand Prison. The rest of the defendants were present and granted bail; they
said they would appeal their cases to the Supreme Court.
After the hearing, the defendants
emerged to greet the mass of 100 people who have gathered in support of the defendants on the lawn
in front of the provincial court where they watched the live broadcast of the hearing.