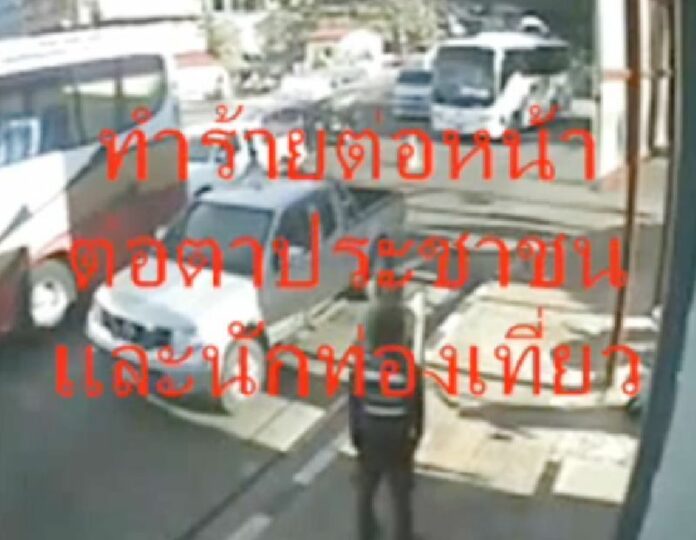 (2 May) Another scandal hit Pattaya after a video clip posted on YouTube shows a certain business owner physically abusing a local official.
The video, titled "Pattaya Mafia", shows a bronze Nissan pickup truck with a siren parking
in front of the Tappraya 2310 booth at Bali High Pier, South Pattaya. A Thai man aged 50 stormed the
booth, pulling out one of the officials in full uniform, hitting him angrily in the face while
shouting condemnations and grabbing his uniform, right in front of the tourists and
residents.
Our correspondent has questioned the individual on the video clip, Mr. Anurat
Chunpaibool, 25, Special Affairs official of Tappraya, the victim of the attack.
He said that
the incident happened on April 26th. Before the incident, an anonymous man has found his way into
the Tapphraya radio communication channel and ranted that there was a traffic jam at the Bali High
Pier.
Mr. Anurat then came out to investigate, taking pictures and video clips of the traffic
to send to his headquarters. At this time, Mr. A. (alias), owner of a speed boat business turned on
the siren on his pickup truck and dragged a large speed boat in the wrong direction onto the street,
passing by a big tourist bus. This was one of the causes of the traffic jam, he said.
Mr.
Anurat added that he went out to try to clear the traffic. Mr. A's daughter approached him and asked
to see his phone, threatening violence if he didn't let her. He had already deleted the video he
sent to his office, he told our correspondent, but one clip with Mr. A present in it had yet to be
deleted.
The daughter reprimanded him and deleted the clip, Mr. Anudit said, and he tried to
explain that the clip was not to highlight Mr. A's actions, but to report the overall situation as
he was ordered to do so. He then went back into the booth, and Mr. A parked his pickup truck in
front of the booth and dragged him out and hit him violently in the face, as the video
shows.
Mr. Anurat claimed that a female official of Department of Tourism Pattaya recorded
the incident on her phone. Mr. A, according to Mr. Anurat, threatened the 3 officials in the booth
and they had to delete the video clip, before driving off as if nothing had happened.
The
situation escalated after Mr. Anurat's father arrived and hit Mr. A in the face, the official said,
forcing him to call the Pattaya City police. Both parties ended up at Pattaya police
station.
Although he has been relocated from the booth to the headquarters, Mr. Anurat still
plans to press charges, stating that if it hadn't happened to him, it would have happened to the
other officials stationed there.