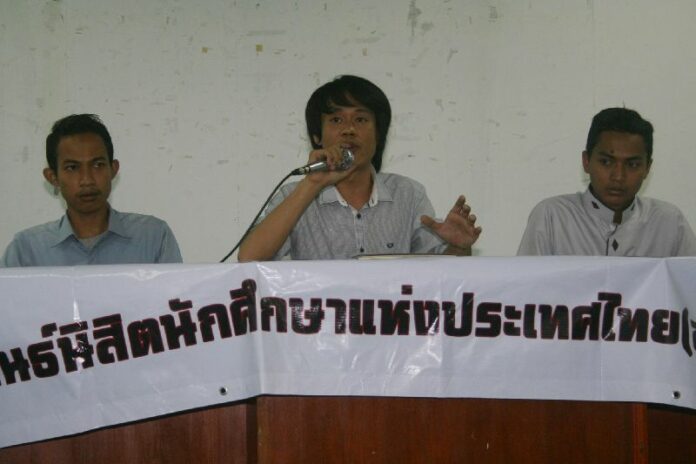 (15 October) A group of student activists has alleged that the anti-government protesters at Bangkok′s Uruphong intersection is falsely claiming to represent their university and fellow students.
Calling themselves Student and People Network For Political Reform of Thailand, the protesters are have been camping out on the road to call for the resignation of Prime Minister Yingluck Shinawatra,
The protesters have accused Ms. Yingluck of corruption, abuse of power, and serving as puppet for her corrupt brother, the former Prime Minister Thaksin Shinawatra. Their leaders claim to be student activists from Ramkhamhaeng University, a contrast to the array of retired military officials who had been dominating the anti-government protests in recent months.
However, representatives of Student Federation of Thailand (SFT), the umbrella network of various student activist groups in Thailand, said in a press conference today that the Students and People Network has not obtained a permission from Ramkhamhaeng Student Council to use the name of their educational establishment in the protests.
Mr. Supat Asasri, Secretary-General of SFT, said that his will not join a protest that "obstructs democracy", referring to the Students and People Network.
"The SFT does not agree with any method to destroy the system of democracy," Mr. Supat told reporters, charging that the anti-government protesters have hijacked genuine troubles of the ordinary people, such as the failing rubber price, and turned it into "extra-parliamentary dictatorship" movements.
In the same press conference, Mr. Nantapong Panmat, deputy chairman of the Student Council, warned that should the leaders of Students and People Network continue to campaign under the name of the university, the Council will proceed to boycott their activities.
Mr. Nantapong explained that only two of out the 12-member Ramkhamhaeng Student Council went to the protests.
"We respect in democracy. We support a government that comes from an election," Mr. Nantapong said, "Even though the government has committed many wrongdoings, but a violent attempt to oust the government is not the right way".
Meanwhile, Thai Rath has published a report claiming that Mr. Uthai had strong ties to a student party in Ramkhamhaeng University which is believed to receive much support from a number of Democrat MPs.
Earlier in the day, the protesters at Uruphong intersection came under biological attack of a sort. Dozens of protesters, who were spending the nights at their camp, woke up around 04.00 due to severe itching on their bodies.
The medical staff at the protest site responded to the incident and discovered traces of toxic herbs which can cause itches to human skins on the ground, stretching for 100 metres. Six protesters were sent to hospital, while the rest received first aid treatment.
The police believe the herb was spread by an mysterious individual who had slipped into the camp site at night to sow chaos among the protesters. Officials from Bangkok metropolitan authority later arrived to clean the area with water cannon.
For comments, or corrections to this article please contact: [email protected]
You can also find Khaosod English on Twitter and Facebook
http://twitter.com/KhaosodEnglish
http://www.facebook.com/KhaosodEnglish