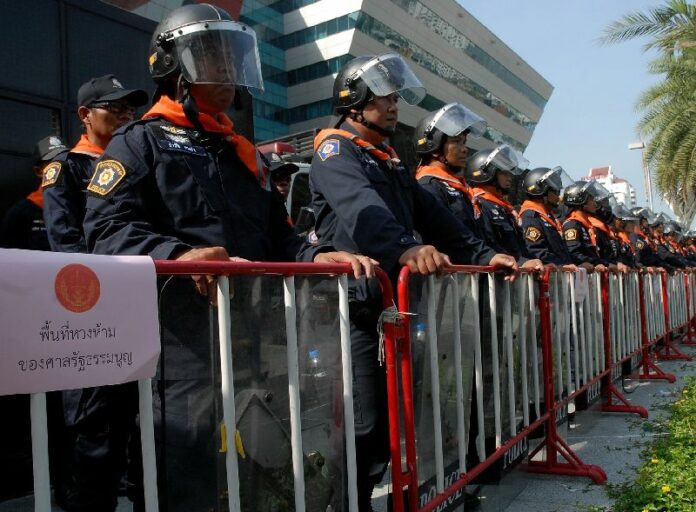 (20 November) The Constitutional Court has ruled that Pheu Thai Party′s effort in revising the 2007 charter is unconstitutional.
Pheu Thai has been attempting to amend the 2007 Constitution to replace the current half-elected Senate body with a fully elected one.
The court verdict was read out after two hours of unexplained delay. The judges cited several actions of Pheu Thai Party as illegal, such as its allowing of its MPs to cast votes on behalf of their absent colleagues.
Adopting strong languages, the court also scathingly portrayed the government′s endeavour at constitution revision as a potential "power abuse" of the "dictatorship of the majority". Concluding the verdict, the court announced that it has come to decision by the votes of 6-3 that the charter amendment is unconstitutional.
However, it refused to hand down any punishment toward the guilty party, rejecting the request of the plaintiffs who had asked the Constitutional Court to dissolve Pheu Thai Party.
The decision is the second judicial blow in two years against the effort of Pheu Thai Party to amend the Constitution, which it viewed as undemocratic as it was drafted by a panel appointed by the military in the aftermath of the 2006 military coup.
Last year, the Constitutional Court similarly stuck down an ongoing effort in Parliament to revise the 2007 Constitution, calling it unconstitutional.
After the ruling was announced, Mr. Jarupong Ruangsuwan, Minister of Interior Affairs and chairman of the Pheu Thai Party, told reporters that the court has shown its bias in favour for the military-drafted 2007 Constitution by ruling against the effort to amend the charter.
He said he personally cannot accept the ruling. "The judges focused on petty issues like the MPs who voted for someone else, but that was the doing of a few individuals," Mr. Jarupong complained.
He also insisted that the quest for a fully elected Senate would benefit Thailand′s path toward democracy, claiming that a half-appointed Senate is an insult to the voters of Thailand.
Asked by a reporter how the government will respond to the court ruling, however, Mr. Jarupong simply said the matter is under discussion.
For comments, or corrections to this article please contact: [email protected]
You can also find Khaosod English on Twitter and Facebook
http://twitter.com/KhaosodEnglish
http://www.facebook.com/KhaosodEnglish