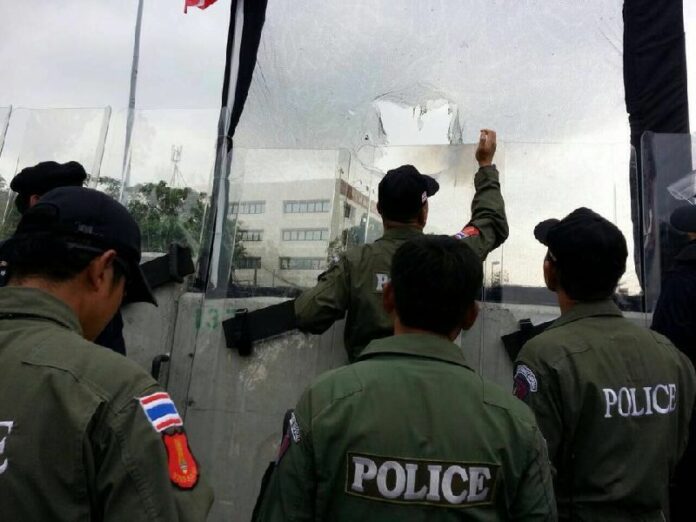 (20 November) A Redshirt protester has pressed charges against unknown individual who reportedly stabbed him as he left the mass Redshirts rally last night in eastern Bangkok.
The Redshirts have been holding an overnight rally in the Rajamangala Stadium to show their support for the government of Prime Minister Yingluck Shinawatra.
Mr. Prapan Dang-aram, 60, said he was walking toward a bus stop in Soi Ramkhamhaeng 53 when he walked past a young polytechnic student. However, shortly afterwards the man rushed toward Mr. Prapan and attacked him without any provocation, according to Mr. Prapan.
Mr. Prapan said he was stabbed by a piece of sharp iron at his cheek and right thigh and slammed to the ground before the assailant fled the scene. He later reported the incident to policemen at nearby police checkpoint who brought him to hospital.
He added that he was wearing a red shirt at the time of the attack, but police officers said it was still too early to indicate whether the attack was a political hate crime.
Earlier this afternoon, another violent incident occurred the barrier line of riot police facing the anti-government protesters on Makawan Bridge, which links Ratchadamnoen Avenue with the governmental district where Government House is located, when an unidentified type of explosive device was thrown at the police.
The bomb was caught in the barrier net, but its effect has wounded three police officers nearby.
For comments, or corrections to this article please contact: [email protected]
You can also find Khaosod English on Twitter and Facebook
http://twitter.com/KhaosodEnglish
http://www.facebook.com/KhaosodEnglish