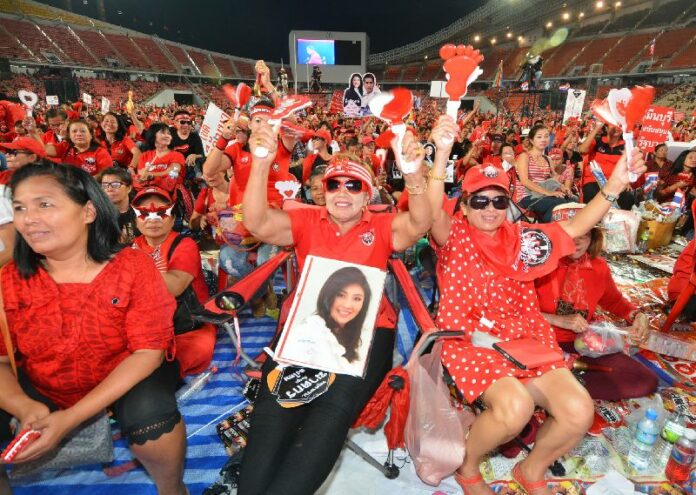 (20 November) The official leadership of the Redshirts movements has instructed its supporters to wait for an official response to the verdict of the Constitutional Court which effectively killed the government′s effort to amend the 2007 Constitution.
The National United Front of Democracy Against Dictatorship (UDD) told thousands of Redshirts rallying at Rajamangala Stadium that its leaders will address the crowd at 20.00.
The Redshirts have been staging an overnight rally at the stadium in Bangkok to show their support for the government of Prime Minister Yingluck Shinawatra and the ruling Pheu Thai Party ahead of the verdict of the Constitutional Court on the legality of the government′s charter amendment.
Earlier this afternoon, the Constitutional Court has
ruled
thatPheu Thai Party has violated the 2007 Constitution by attempting to amend the charter by illegal methods such as allowing its MPs to cast votes on behalf of their absent colleagues.
It is not immediately clear how the government will react to the court ruling. Ms. Yingluck has refused to take questions from reporters earlier in the day.
Pheu Thai Party and the UDD have firmly expressed their opposition to the court′s ruling even before it was read out, accusing the Constitutional Court of overstepping its constitutional boundary and interfering with the powers of the Legislative Branch.
But Mr. Weng Tojirakarn, a UDD leader, said leading members of the UDD will convene a meeting to discuss about interpretation and responses to the verdict. He said the UDD will make an official announcement at 20.00 today.
For comments, or corrections to this article please contact: [email protected]
You can also find Khaosod English on Twitter and Facebook
http://twitter.com/KhaosodEnglish
http://www.facebook.com/KhaosodEnglish