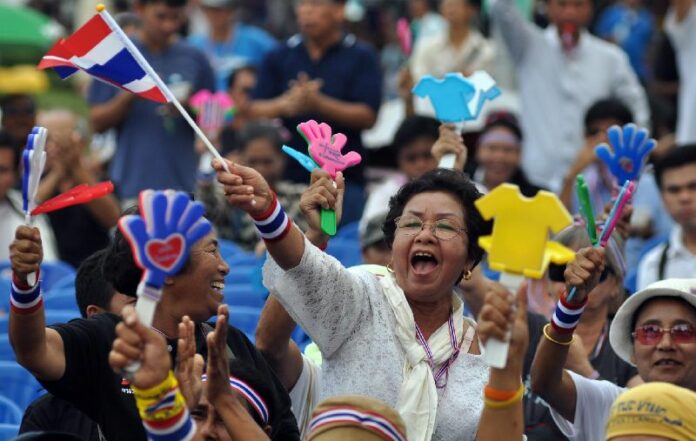 (21 November) Deputy Prime Minister Pracha Promnok was forced today in Parliament to clarify that former Deputy PM Chalerm Yoobamrung was not in charge of the governmental body that monitors the ongoing anti-government protests as claimed by Mr. Chalerm.
Mr. Chalerm, who currently serves as Minister of Labour, announced to the press earlier this week that he has been appointed by Prime Minister Yingluck Shinawatra to lead a ?war room? he established at Ministry of Labour to monitor and manage the protests led by former Democrat MP Suthep Thaugsuban at Ratchadamnoen Avenue.
The unilateral announcement surprised many observers, as the government had already appointed Pol.Gen. Pracha to head the official body that directs the authorities involved in public security during the period of the protests. But Mr. Chalerm insisted in the press conference that his work will not overlap or interfere with Pol.Gen. Pracha′s agency.
Curiously enough, Mr. Chalerm also claimed that the appointment was directed to him "verbally" by Ms. Yingluck, without any official document.
In the press conference Mr. Chalerm, went on to threaten a full police blockade around Mr. Suthep′s house, allegedly to intercept illegal arms shipments the protest leaders planned to unleash on the capital city, and claimed he received intelligence reports that the anti-government protesters have devised a plot to seize many important governmental buildings.
Mr. Chalerm′s threats have apparently alarmed Democrat MP Wachara Petchthong, who demanded during the parliamentary session that Pol.Gen. Pracha explain the authorities of Mr. Chalerm.
Replying to Mr. Wachara′s question, Deputy MP Pracha clarified that Mr. Chalerm was not tasked by the government to head any operation concerning the protests.
"The government has delegated the responsibility to me only," Pol.Gen. Pracha said, "Mr. Chalerm was only involved by occasionally giving advice".
He stressed that the government respects the rights to assembly of the protesters, and contradicted Mr. Chalerm by declaring to Parliament that there is no known evidence of any protester smuggling firearms into the protest site.
"The government is well aware of its duty to protect the lives of the protest leaders and the protesters," Pol.Gen. Pracha told Parliament, "Because if anything happens, it would lead to uncontrollable escalation".
Pol.Gen. Pracha also addressed the rumour that three policemen had died on duty as they kept watch on the protesters, admitting that three police officers had indeed passed away during their posts, but the cause of deaths were personal illness and unrelated to the protests.
For comments, or corrections to this article please contact: [email protected]
You can also find Khaosod English on Twitter and Facebook
http://twitter.com/KhaosodEnglish
http://www.facebook.com/KhaosodEnglish