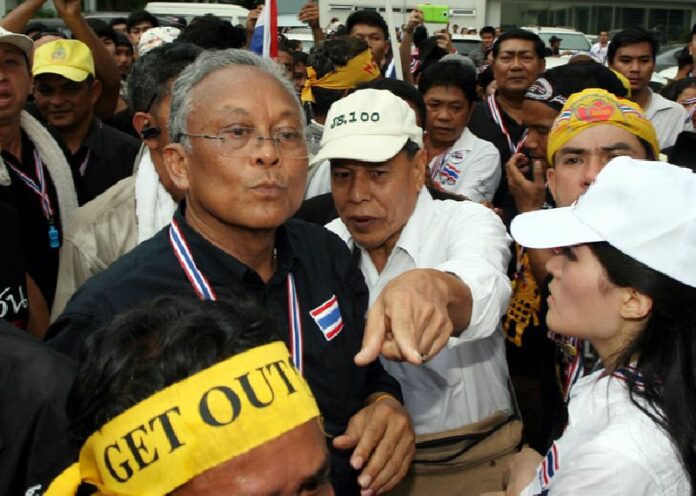 (26 November) The Criminal Court has approved the arrest warrant on the leader of the anti-government protesters responsible for the occupation of three Ministries by the protesters.
Former Democrat MP Suthep Thaugsuban has been charged with causing public disorder, refusing to cease such action when instructed to do so by the authorities, and trespassing state properties, under the Criminal Code Section 116, 215, 216, and 365.
Under orders from Mr. Suthep, the protesters are currently occupying the compound of Ministry Finance, Ministry of Foreign Affairs, and Ministry of Tourism and Sports.

Some of the demonstrators have also entered the Public Relations Department upon his instruction.

Lt.Gen. Paradorn Pattanatabutr, chief of National Security Council, said he had been informed by the police that the authorities had dispatched representatives to warn Mr. Suthep of the illegality of his tactics and advise him to change course, to no avail.

He added that he hoped his supporters would at least listen to the government′s plea for the "illegal" protest to end. "These people have middle class background. They should be well aware what the laws say," Lt.Gen. Paradorn told our correspondent.

The national security chief also suggested that Mr. Suthep is at the risk losing his appeal for a bail release because he is already involved in a separate legal action for his role as a Deputy Prime Minister who co-authorised the crackdown on Redshirts protesters in 2010.

However, Lt.Gen. Paradorn admitted that the police would unlikely try to serve the warrant or arrest him inside the protest camp, less violent confrontations would break out.