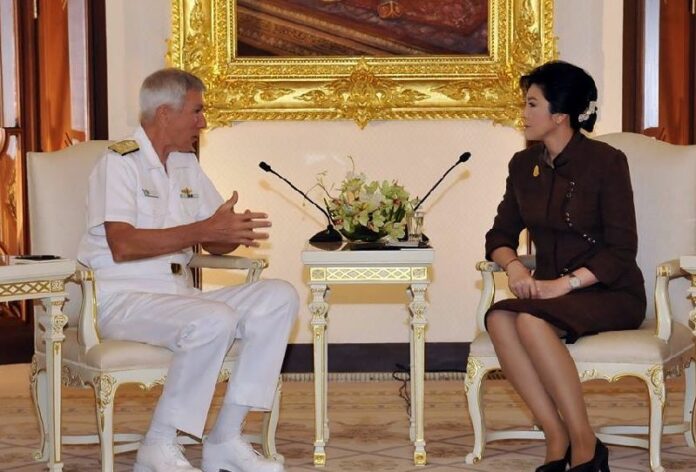 (6 December) The US Ambassador to Thailand has praised the Thai government′s restrained measures toward anti-government protesters during her discussion with Prime Minister Yingluck Shinawatra.
Ambassador Kristie Kenny also expressed her belief a peaceful negotiation between the anti-government People′s Council for Absolute Democracy With the King as Head of State (PCAD) and the government would be the best solution to the ongoing political crisis.
The US Ambassador and US Pacific Commander, Admiral Samuel J. Locklear, have previously attended the celebration of His Majesty the King′s 86th Birthday at Klai Kangwon Palace in Hua Hin yesterday.
They later met with Ms. Yingluck and Chief of Defence Forces, General Thanasak Patimaprakorn.
Both Ms. Kenny and Admiral Locklear expressed their delights to have participated in the auspicious celebration of HM the King′s birthday. Ms. Kenny also raised her concern over the anti-government protests which have claimed four lives and injured more than 200, stating that the US has been closely monitoring the situation in Thailand.
Nevertheless, she said she is hopeful that Thailand could peacefully solve the ongoing conflict soon by establishing a dialogue with the protest leaders, and told Prime Minister Yingluck she is impressed by the restraint shown by the Thai government and the police in handling the protesters.
Ms. Kenny also suggested to PM Yingluck that the negotiation should start as soon as possible.
Admiral Locklear likewise said he appreciates the Thai government′s patient and tolerant manner during its tackling of the conflict.
The US commander added that he considers Thailand as the oldest ally of the US in the region, and that both nations have continuously enjoyed warm relationship and cooperation, as apparent in the recent joint effort in sending relief to the typhoon-battered Philippines.
In reply, Ms. Yingluck stressed that the government is determined to solve the conflict peacefully, democratically, and is willing to open the floor for debate with any party to reach the solution.
She additionally assured the US delegation that she will not declare the State of Emergency as a response to the protests.
According to the Prime Minister, Thailand sees the US as its main ally for its security and prosperity in Asia-Pacific. Thailand is willing to cooperate with the US in any aspects, Ms. Yingluck, particularly the annual joint military drill, the Cobra Gold.
Ms. Yingluck also thanked Ms. Kenny for President Barack Obama′s message of good will addressed to His Majesty the King for his birthday.
Meanwhile, Chief of Defence Forces, General Thanasak, expressed his optimism about the situation, stating that it is 'getting better and better'.
General Thanasak said he cannot speak for PCAD leader Suthep Thaugsuban why he still refuses to put an end to his political campaign, but added that he is hopeful about future dialogues between the protest leaders and the government.
"It′s a good way, so that everyone can help and share their ideas," said General Thanasak.
He added, "thankfully, the protesters did not escalate the situation today, but we'll have to see again tomorrow."
For comments, or corrections to this article please contact: [email protected]
You can also find Khaosod English on Twitter and Facebook
http://twitter.com/KhaosodEnglish
http://www.facebook.com/KhaosodEnglish