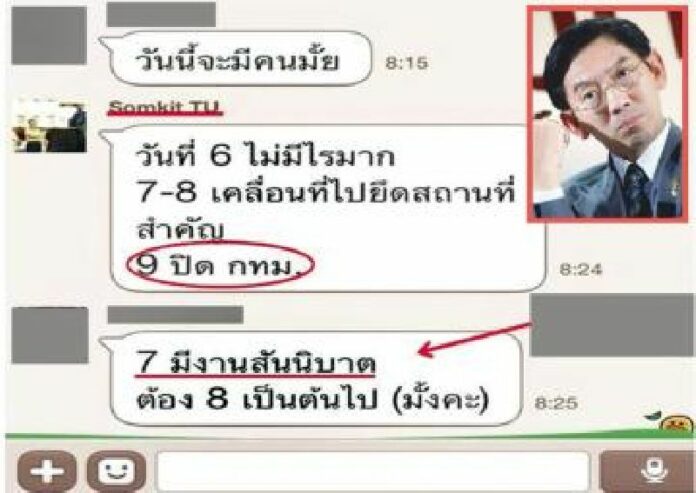 (7 December) The Rector of Thammasat University has been accused of secretly collaborating with anti-government protest leaders after leaked screenshot of his chat application correctly predicts the protesters? next move.
The protesters, led by the People′s Committee for Absolute Democracy With the King as Head of State (PCAD), had refrained from marching out of their protest camps since His Majesty the King′s Birthday, providing Bangkok with a brief lull following a week of confrontation when the protesters clashed with riot police in governmental district.
But when, a leaked screenshot shows, Thammasat University′s Rector Somkid Lertpaithoon was asked in a LINE group chat what the next gameplan of the protesters could be, he instantly casually that "nothing much" would happen on 6 December, and said the real move would come on 9 December.
On that day, Mr. Somkid said in the screenshot, the protesters would attempt to "shutdown Bangkok" following two days of demonstration on 7-8 December.
The news came less than a week after a group of student activists staged a protest in Rangsit Campus of Thammasat University to denounce Mr. Somkid′s decision to close down the university earlier this week.
While Mr. Somkid claimed he did so out of safety concerns amid the political chaos in Bangkok, the activists charged that the closure announcement coincides with PCAD leader Suthep Thaugsuban′s call for a nationwide strike and shutdown of education establishments.
The screenshot of the chat was also seized by critics of Mr. Somkid as further evidence of his conspiracy with the protest leaders.
Speaking to Khaosod, Mr. Somkid confirmed the screenshot was real, but denied he possessed any inside knowledge of the protest leaders, explaining that he merely repeated what he had been told by his colleagues, and he did not know whether the rumour was true.
"I was just talking without any agenda," Mr. Somkid said, "If I knew the events beforehand where the protesters would go, I would be a genius, and I would have joined Mr. Suthep′s strategic advisers already".
The Rector also told our correspondent his actions or words might appear to coincide with the anti-government protesters?, but it is because he had proposed them even before the protest started. "I have been talking about House dissolution and [Prime Minister′s] resignation before Mr. Suthep did. He just copied my formula, and people think I collaborated with Mr. Suthep. That is not true."
He added, "Some people just want to attack me" with smear campaign.
However, his discussion of Mr. Suthep′s next move was proven to be accurate later in the evening when Mr. Suthep himself announced the plan to mobilise his supporters over the weekend for a "final showdown" on 9 December.
PCAD leader promised a shutdown of "every street" in the capital city, as he expected "millions" of protesters to come out of their offices and homes to join their "final" march on Government House. Mr. Suthep said he was confident he would achieve "victory" within a single day.
The coincidence led Mr. Jatupon Prompan, a leader of the Redshirts official organisation, to quip during a press conference today that Thammasat is no longer a bastion of freedom and democracy when its Rector is cooperating with what Mr. Jatupon described as anti-democracy protesters.
"He can claim he merely repeated what people have been sharing, but it doesn?t make sense," Mr. Jatupon said, "He′s been collaborating with Mr. Suthep all along".
For comments, or corrections to this article please contact: [email protected]
You can also find Khaosod English on Twitter and Facebook
http://twitter.com/KhaosodEnglish
http://www.facebook.com/KhaosodEnglish