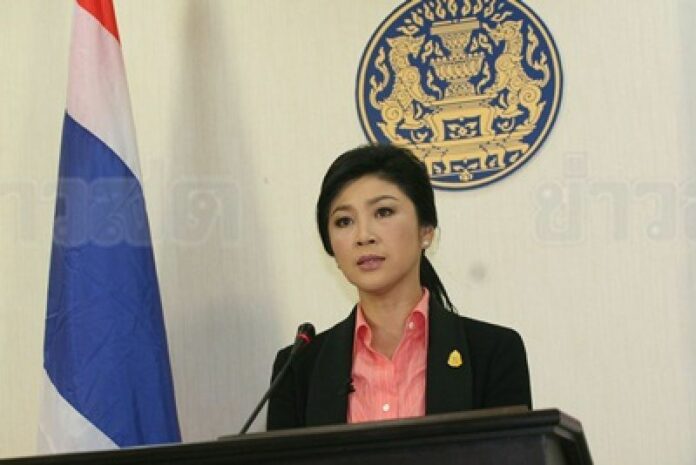 (9 December) Prime Minister Yingluck has told the nation she will dissolve Parliament to let the Thai people decide the outcome of the ongoing political crisis with democratic means.
Ms. Yingluck′s announcement was made on live television broadcast at a time of high tension in Thailand; all opposition MPs just announced their resignation in protest yesterday, and the anti-government protesters were set to march from various rally sites in Bangkok toward Government House in the bid to unseat her.
In her speech, she defended her government as a hard-working and democratic one. The Prime Minister also claimed her government has been pursuing a compromise with the anti-government faction, even going as far as offering to hold a referendum on the idea of ?People′s Council? proposed by protest leader Suthep Thaugsuban.
Nevertheless, Ms. Yingluck said, she has decided to give back the power to the people by calling a new election and dissolving the House "which is a democratic way, letting the people to decide which path the majority of the people wants to see"
She added that she would like to invite all parties and all groups to use the upcoming election as the means to pursue their political goals.
Ms. Yingluck also told the nation she and her cabinet would stay in power as caretakers until the next election.
Although Ms. Yingluck has not set the date for next election, Khaosod has been told by a source that the polls would likely take place on 2 February 2014.
However, as of 10.00 today, anti-government protesters have refused to disperse, and they have begun their demonstrations across Bangkok as planned. Anti-government protest leaders have previously demanded the establishment of an unelected ?People′s Council? to rule Thailand instead of another election which, they said, would still be won by Ms. Yingluck′s allies.
For comments, or corrections to this article please contact: [email protected]
You can also find Khaosod English on Twitter and Facebook
http://twitter.com/KhaosodEnglish
http://www.facebook.com/KhaosodEnglish