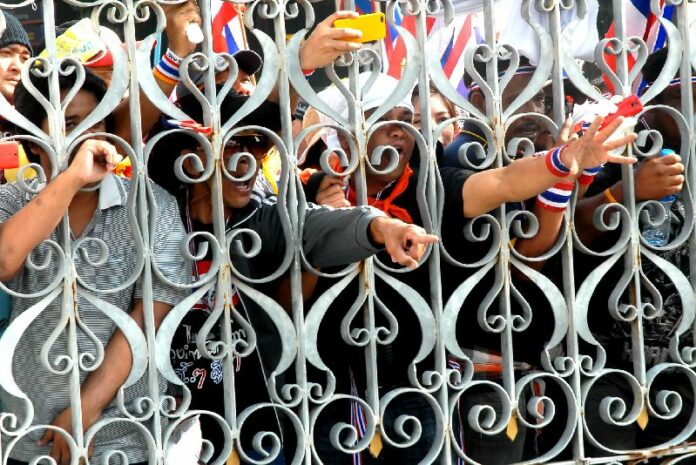 (12.50) Anti-government protesters led by former Democrat MPs are now besieging Government House, their target for the massive demonstrations today.
Very few police officers are visible around the Government House
compound, our correspondent says. Most of the officers have now retreated to their positions inside
the buildings, while thousands of protesters are just outside the
compound.
The
protesters are occupying various roads around the government office, such as Pitsanulok Road and
Royal Plaza, their ranks increasingly swelling by the minute as they are joined demonstrations from
other areas of Bangkok.
The demonstrators are being led by a number of former Democrat MPs who resigned from their
position just yesterday.
All
exits and entrances of Government House are blocked by the protesters who were instructed by their
leaders not to let the police force to leave the compound.
Protest leaders on their
loudspeaker-vehicles have told the protesters to hold their ground and wait for a ?declaration of
victory? from PCAD leader Suthep Thaugsuban.
For comments, or corrections to this article please contact:
[email protected]
You can also find Khaosod English on Twitter and Facebook
http://twitter.com/KhaosodEnglish
http://www.facebook.com/KhaosodEnglish