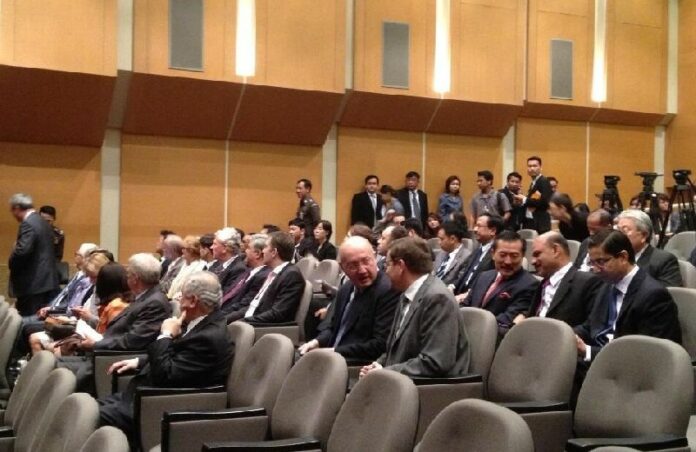 (9 December) Foreign diplomats will not be touring the Government House as planned, Minister of Foreign Affairs said, citing security concerns as anti-government protesters are besieging the compound.
Mr. Surapong Tovijakchaikul has previously invited 60 foreign diplomats to observe the situation at Government House, where riot police awaited the arrival of thousands of protesters who had announced they would seize it in an attempt to unseat Prime Minister Yingluck Shinawatra.
The intention of the tour was assuring the diplomats that the government would respond to the protesters with appropriate universal crowd-control measures. The diplomats would also be shown the arsenal of police equipment stored at Government House, to highlight the lack of firearms or any heavy weapons, Mr. Surapong said.
However, the protesters? siege of the Government House has forced Mr. Surapong to cancel the visit out of concern over the diplomat′s safety and brief them about the situation in Thailand at Ministry of Foreign Affairs instead.
Mr. Surapong stressed that the government will maintain patience and avoid committing violence against the protesters. He added that footage from CCTVs around the Government House would be broadcast via Channel 9 and Channel 11 to inform the public about the protests.
The diplomats did not ask any question during the briefing, our correspondent said.
Mr. Surapong told reporters after the briefing that representatives from many countries have shown their support to the government′s peaceful measures in this protest. He also called on protest leader Suthep Thaugsuban to put an end to their protests, now that Prime Minister Yingluck Shinawatra has agreed to dissolve the House.
"If Mr. Suthep won?t end today, he can?t call himself a man, because he broke his own words," Mr. Surapong said, "If he doesn?t hold to his words, he would lose all his credibility. In that case, it won?t be inaccurate if I just call him a bandit thug".
Nevertheless, Mr. Surapong insisted that the government is always open to negotiations with Mr. Suthep.
For comments, or corrections to this article please contact: [email protected]
You can also find Khaosod English on Twitter and Facebook
http://twitter.com/KhaosodEnglish
http://www.facebook.com/KhaosodEnglish