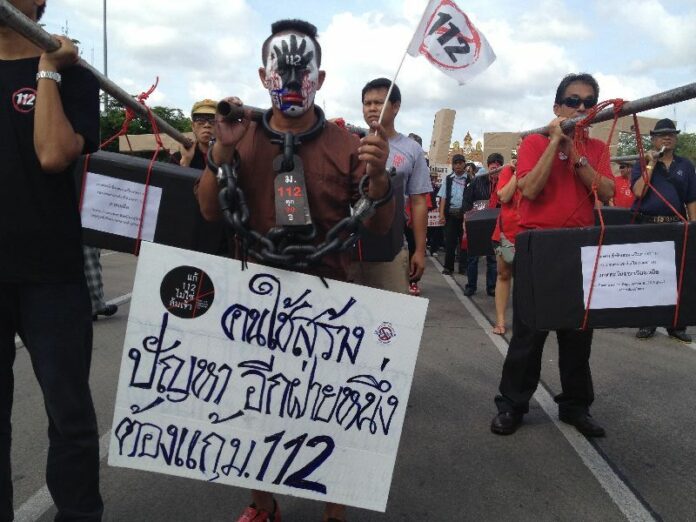 (10 December) Three separate trials on lese majeste charges will be decided later this week, legal advocacy group iLaw has reported.
Lese majeste, or perceived insult of the monarchy, is punishable by up to 15 years in prison according to Article 112 of the Thai Criminal Codes.
The first case to be ruled this week is a Supreme Court trial involving Mr. Bundit Aneeya, a 73 year old writer, as the defendant. He is accused of disseminating documents deemed offensive to the monarchy during a panel discussion event organised by Election Committee of Thailand in 2003.
The lower courts have sentenced Mr. Aneeya to 2 years in prison, but the defendant has appealed the verdicts, arguing that he was not mentally sane at the time of the incident. The verdict will be read out on 11 December at South Bangkok Supreme Court.
On 12 December, the Ratchada Criminal Court in Bangkok will decide the case in which Mr. Kittithon (surname withheld), a 51 year old retail shop owner in Samut Prakarn province, is accused of posting contents on internet that insult the monarchy.
Mr. Kittithon was arrested at his home on 30 August by dozens of police officers who also raided his house, according to iLaw, which keeps tracks of lese majeste cases.
The police also claimed they have found materials defaming members of the Thai royal family stored by Mr. Kittithon in his computer. The prosecutor told the court Mr. Kittithon intended to post these materials on the internet later. The defendant has confessed.
Lastly, on 13 December the court in Chiang Mai province will also hand down the verdict in the case of Mr. Asawin (surname withheld) who has been alleged of claiming the name of His Majesty the King in business dealing.
The defendant has contested the charge, arguing that he has been falsely implicated by rival business owners.
A number of activists and academics have previously called for abolition or amendment of Article 112 on the ground that it is a threat to freedom of speech in Thailand.
For comments, or corrections to this article please contact: [email protected]
You can also find Khaosod English on Twitter and Facebook
http://twitter.com/KhaosodEnglish
http://www.facebook.com/KhaosodEnglish