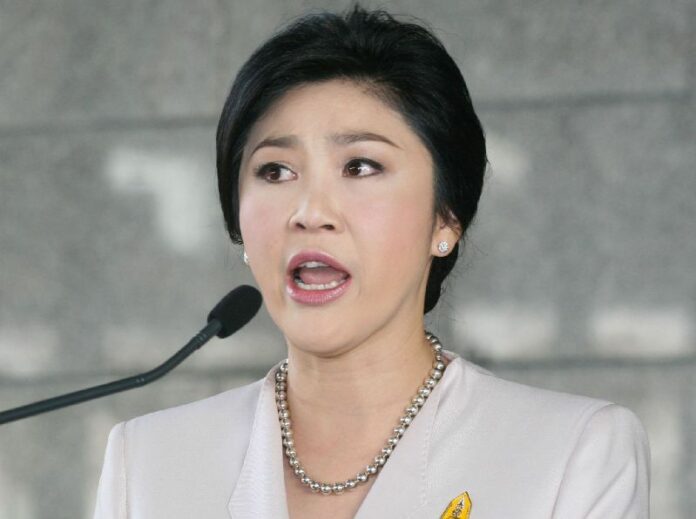 (10 December) Prime Minister Yingluck Shinawatra expressed her distress over the anti-government protesters? demands that she and her entire family must be expelled from Thailand.
In an emotional press conference at the Army Club – which served as a temporary Cabinet meeting venue – this morning, Ms. Yingluck said the protesters should acknowledge the fact that she had already caved in to many demands of the anti-government movements, such as her decision to dissolve the House and call a new election.
"It′s just my feeling. I believe everyone has feelings. I have feelings, too," Ms. Yingluck, with tears in her eyes, told reporters, "The way they talk about my family… well, we are all Thais. Has it come to the point that we are not allowed to put our feet on the soil of Thailand? Is that how it′s going to be?"
She added, "I have taken so many steps back that I don?t know how to step back any further. Can you at least give me some fairness".
The press conference was her first public statement since she announced that she would submit the request for parliament dissolution to His Majesty the King yesterday. Despite Ms. Yingluck′s announcement, anti-government protesters led by People′s Committee for Absolute Democracy With the King as Head of State (PCAD) has escalated its campaign to unseat her.
PCAD secretary-general Suthep Thaugsuban has insisted that Ms. Yingluck and her Cabinet must resign, as contrary to the Constitutional provision which requires her to stay on as caretaker Prime Minister until the next election. Other PCAD leaders also demanded in their speech that the entire Shinawatra family leave Thailand.
Ms. Yingluck stressed in the press conference that she could not quit her position, because it would amount to disrespecting the Constitution.
She also urged the protesters to demand changes in accordance with the Constitution, especially on the day (10 December) that Thailand observes the enactment of the first official Constitution 81 years ago.
"All of us Thais have to join hands in defending democracy and the Constitution," Ms. Yingluck said, adding that the PCAD protesters should stick to electoral politics instead of prolonged street protests or any extra-constitutional methods.
Asked whether she would run in the next election, however, Ms. Yingluck said she had not discussed about the matter with Pheu Thai Party, since she is too preoccupied with daily functions as Prime Minister along with other Cabinet members.
When a reporter asked her whether she could still handle the situation, the Prime Minister said she is personally anxious about the possibility of another violent confrontation.
The reporter who brought the question about PCAD′s campaign against her family later apologised to Ms. Yingluck for visibly causing her much distress in the press conference, but Ms. Yingluck, wiping her tears, told the reporter it was in fact a good question.

"I have wanted to speak out about the matter for a long time anyway," she said.
Around 200 anti-government protesters led by former Democrat MPs were also gathered in front of the Army Club, blowing their whistles and shouting their defiance against Ms. Yingluck. They dispersed peacefully after rallying for around 30 minutes.
For comments, or corrections to this article please contact: [email protected]
You can also find Khaosod English on Twitter and Facebook
http://twitter.com/KhaosodEnglish
http://www.facebook.com/KhaosodEnglish