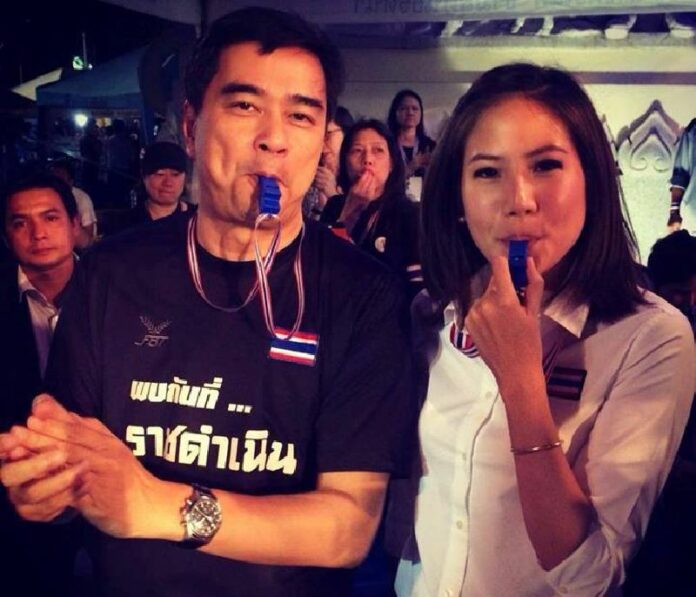 (20 December) The anti-government socialite Ms. Chitpas Bhirombhakdi will not cease her political activities despite warning from her family patriarch, said chairman of the Democrat Party.
Ms. Chitpas, a member of the large family which owns the brewery that produces Singha Beer, has been making headlines in recent months as an outspoken activist against the government of Prime Minister Yingluck Shinawatra.
She also voiced her belief to a number of media that electoral democracy might not work for Thailand since many of the rural voters are uneducated.
But her actions have apparently raised the ire of the executive director of Boonrawd Brewery, Mr. Santi Bhirombhakdi, who wrote a letter to Ms. Chitpas? father Mr. Chutinant Bhirombhakdi, expressing his frustration that the public has associated the family and the company with Ms. Chitpas? political views.
The letter, which was leaked to the media, also included a warning that Mr. Chutinant would be held responsible for any damage caused by his daughter.
However, leader of Democrat Party Abhisit Vejjajiva told reporters today that he has discussed with Ms. Chitapas about the matter earlier today and Ms. Chitpas has insisted that she will not waver in her political cause.
"I sympathise with her because her political path has affected her," Mr. Abhisit said, "I also sympathise with her family and her company because they were affected by it, too. This is problem about political situation."
He added, "But Ms. Chitpas is an adult. She has chosen to do political work because she believes it will benefit her country."
Meanwhile, Mr. Santi, the Singha boss, also commented on the letter during his appearance at New Year party at Boonrawd Brewery headquarters, which was attended by hundreds of staff of the company.
According to one high-ranking employee who attended the event, Mr. Santi said in his speech that he was upset by the interview Ms. Chitpas gave to the AFP, in which she claimed that rural population of Thailand did not understand democracy.
Mr. Santi said the statement gravely harms the company, since the brewery relies on massive sales in the countryside. He also stressed that "the company is in debt to the customers", and that he will not allow his company to be politicised.
For comments, or corrections to this article please contact: [email protected]
You can also find Khaosod English on Twitter and Facebook
http://twitter.com/KhaosodEnglish
http://www.facebook.com/KhaosodEnglish