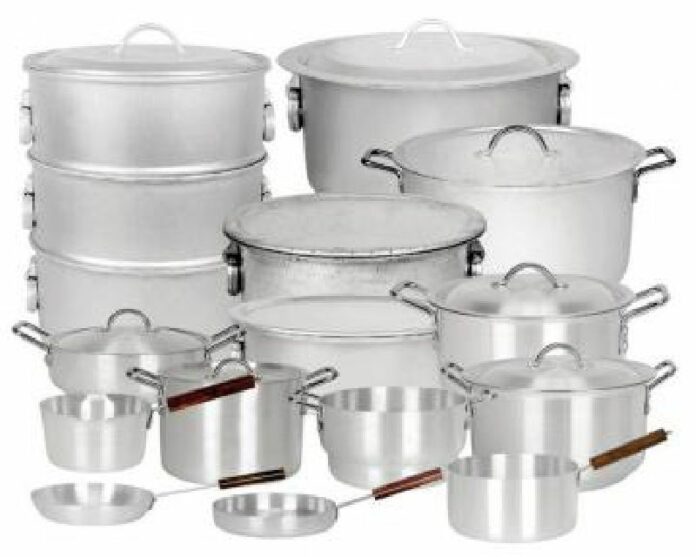 (20 December) The Office of Consumer Protection Board (OCPB) has warned that Thais are at risk of suffering chemical contamination from kitchenware made of substandard aluminium alloy.
Almost all of the 21 samples of aluminium utensils collected from 3 major provinces – Bangkok, Chiang Rai, and Nakhon Phanom – fail to pass the safety assessment conducted by the Department of Science Service, which operates under OCPB, said DSS Director-General Saowanee Musidaeng.
The assessment concludes that aluminium alloy utensils tend to release amount of aluminium, lead, zinc, and copper substances which exceeds recommended standard, Ms. Saowanee said.
The finding means that people who are using substandard aluminium alloys cooking equipment are at risks of food contamination, Ms. Saowanee told our correspondent. She said the DSS and the OCPB also advise consumer to use pure aluminium utensils when cooking acid-based food.
"The release of unwanted substance of the utensils, which contact directly with the food, depends on many factors," Ms. Saowanee said "Such as time, temperature, and the food's level of Potential of Hydrogen Ion (Ph)".
To spot the different between aluminium alloy and pure aluminium equipment, consumers would notice that aluminium alloy utensils had uneven, dull and dark surface compare to pure aluminium tools, according to the DSS.
The DSS director general also assured that, contrary to ongoing rumour, there is not yet any links between aluminium and Alzheimer's disease. She statement from the World Health Organisation (WHO) and the United Nations Environment Programme (UNEP) confirms this, she said.
For comments, or corrections to this article please contact: [email protected]
You can also find Khaosod English on Twitter and Facebook
http://twitter.com/KhaosodEnglish
http://www.facebook.com/KhaosodEnglish