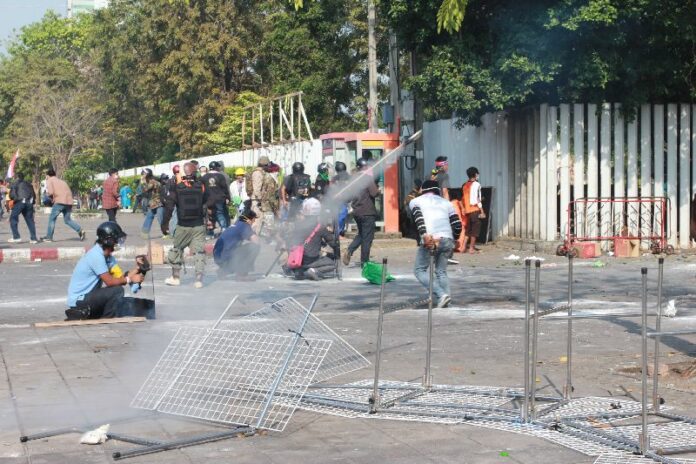 (26 December) One police officer has been killed and more than 90 people injured in the violent clashes between anti-government protesters and police around the election registration venue today.
The protesters led by People′s Committee for Absolute Democracy With the King As Head (PCAD) have launched the campaign to disrupt the new general election by besieging the Thai-Japanese Stadium, where election application centre was housed.
PCAD leaders have rejected the new election called by Prime Minister Yingluck Shinawatra, demanding that an unelected ?People′s Council? be installed to oversee drastic "reforms" deemed necessary by the PCAD instead.
Earlier this morning the protesters attempted to storm the election registration venue to prevent political parties from signing up for the election, which is scheduled to be held on 2 February 2014.
Riot police stationed inside the venue responded by firing tear gas and rubber bullets, while the protesters hurled rocks, fireworks, small explosive devices, and other homemade weapons at the police. Police vehicles in the area were also vandalised by the protesters.
The running battle leaves one policeman dead and over 90 protesters and police officers injured. The dead police officer has been identified as Pol.Sgt. Narong Pitisith, 45.
The victim was shot in the chest with unidentified firearms as he monitored the protests, according to police officers, and he later succumbed to the wounds hours later despite intensive efforts to revive him.
News reports say Pol.Sgt. Narong is survived by his wife and 5-year-old son.
Addtionally, a reporter from Thai Rath newspaper has been transported to hospital after he was shot by unknown individuals. His condition is described as stable.
Pol.Maj.Gen Piya Uthayo, spokesman of the Center for Administration of Peace and Order (CAPO) said several other policemen were also wounded by gunfire from unidentified individuals, while many others were hit with projectiles thrown by the protesters.
He said there are evidences that armed individuals had fired at police officers from a high building near Thai-Japan Stadium. The officer also called on the protest leaders to urge their supporters to exercise their rights of assembly in a peaceful manner.
Most of the injured have been transported to Rajavithi Hospital, Erawan Centre said in a statement.
A group of protesters was also rallying in front of the residence of Prime Minister Yingluck Shinawatra, demanding that she step down from her caretaker position. Ms. Yingluck, who is currently touring the north and northeastern regions, has repeatedly rejected that demand.
On the same day, the National Human Rights Commission released a statement expressing its worry over the police operation against the protesters who were attempting to storm the Thai-Japan Stadium.
It specifically criticised the police for using tear gas and rubber bullets, claiming that such measure is unacceptable in universal crowd control methods. The statement also urged the police to rely on peaceful dialogue as means to defuse the tension.
The statement made no mention of any violence committed by the protesters.
For comments, or corrections to this article please contact: [email protected]
You can also find Khaosod English on Twitter and Facebook
http://twitter.com/KhaosodEnglish
http://www.facebook.com/KhaosodEnglish