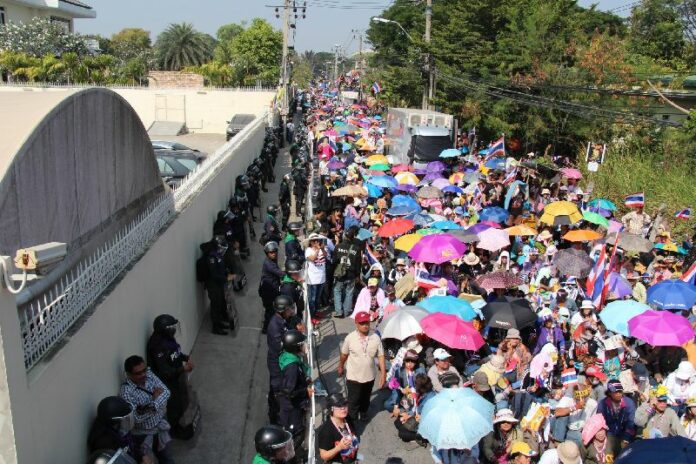 (27 December) Prime Minister Yingluck Shinawatra has insisted today that the general election on 2 February 2014 will proceed as planned, Royal Thai Army spokesperson said.
Col. Thanathip Sawangsaeng said Ms. Yingluck has expressed her concerns about the incident yesterday in which anti-government protesters attempted to disrupt the election registration at Thai-Japanese stadium, leading to a deadly clash between anti-government protesters and the police.
Nevertheless, the Prime Minister would not cancel the election and has requested the presence of military personnel to help oversee election units on the appointed election date to ensure the safety of the public, Col. Thanathip added.
The remark came a day after Mr. Suphachai Somcharoen, president of the Election Commission (EC), spoke in a press conference that the government must postpone the poll indefinitely.
As long as the conflict between different parties still exist in the society, Mr. Suphachai said, his commission may not be able to proceed with the general election in a peaceful and transparent manner according to the Constitution.
The EC President then demanded the postponement of the election until the situation is secured.
But Mr. Pongthep Thepkanchana, deputy prime minister, stated in a press conference on the same day that the government cannot suspend the election indefinitely, as the constitution rules that the caretaker government must arrange for general election after 60 days of the dissolution of the parliament.
"if [the election] is postponed, the domestic dispute will be strengthen and become more harmful to the country. If the new cabinet takes the office, the situation shall be eased", said Mr. Pongthep in a statement.
Col. Thanathip also told reporters that Ms. Yingluck is concerned by the safety of the people in the violent Deep South.
"The Royal Thai Army, as a unit who is responsible for the safety and security, had coordinated with the security units in the Deep South", said Gen.Thnathip, "the police force in the provinces had been working collaboratively with the provincial EC units."
"We are here to facilitate and arrange units to retain the security in the election centre to create trusts and security for those who wish to vote on the date [2 February]", added the Royal Thai Army Spokesperson.
For comments, or corrections to this article please contact: [email protected]
You can also find Khaosod English on Twitter and Facebook
http://twitter.com/KhaosodEnglish
http://www.facebook.com/KhaosodEnglish