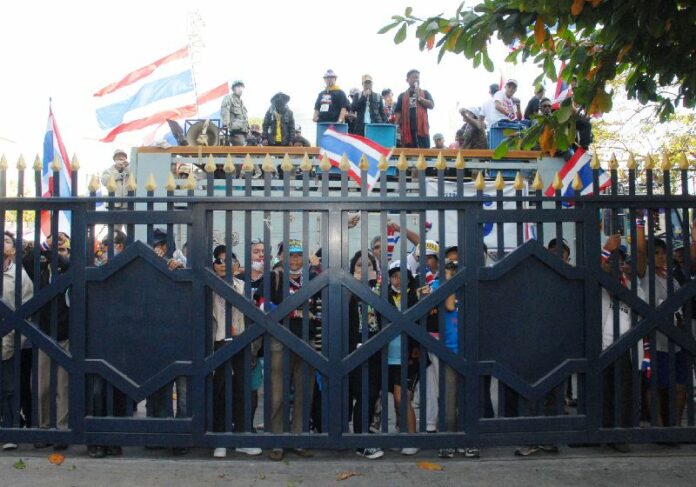 (14 January) Anti-government protesters have moved out of their position to besiege key buildings across Bangkok on the second day of their "shutdown" operation.
The People′s Committee for Absolute Democracy With the King As Head of State (PCAD) has threatened to prolong their occupation of major intersections, roads, and landmarks in Bangkok until the government of Prime Minister Yingluck Shinawatra resigns.
Apart from staging rallies at 7 main locations, PCAD supporters have also been fanning out to other areas to step up their pressure against the government.
Earlier this morning, Buddhist monk Luang Phu Buddha Issara led a PCAD convoy to stage a rally in front of the Ministry of Commerce. The monk explained to the crowd that the rally was meant to criticise the government′s rice-mortgage scheme which, he said, severely affected the price of crops and damaged the national budget.
After spending 2 hours at the Ministry of Commerce, Luang Phu Buddha Issara led the crowd to besiege the Department of International Trade Promotion, accusing the Department officials of giving shelter to key members of the government.
The rally in front of the Department took a tense turn afterwards, when a group of protesters attempted to break through the compound′s front gate, causing the monk to call for calm. An official later emerged from the Department offices and negotiated with Luang Phu Buddha Issara.
The official later told the crowd that the Department of International Trade Promotion did indeed host a group of officials from the Office of Prime Minister for an "urgent meeting", but the group had already left the building before the protesters arrived.
He also asked the protesters not to storm the Department, since its work is crucial to Thailand′s export economy. Satisfied with this explanation, PCAD protesters marched back to their position near Government Complex on Chaeng Wattana Road.
Another brief excitement occurred in the afternoon when a convoy of military hardware passed near the protesters′ rally site on Chaeng Wattana Road, but army officers reassured the crowd via loudspeakers that the weaponry was being transported to a barrack in Bangkok for future parade show.
PCAD protesters also staged rallies in front of Customs Department, Department of Public Works and City Planning, Department of Land Transport, Ministry of Labour, and Ministry of Foreign Affairs in the bid to convince the civil servants not to support the government.
The protesters′ targets are not restricted to governmental buildings; earlier this afternoon a group of PCAD supporters left their rally site at Ladprao Intersection and rallied in front of Shinawatra Tower II building, which houses a number of businesses related to the Shinawatra clan.
An employee inside Shinawatra building said all offices have been closed and office workers evacuated from the building "for safety reasons".
For comments, or corrections to this article please contact: [email protected]
You can also find Khaosod English on Twitter and Facebook
http://twitter.com/KhaosodEnglish
http://www.facebook.com/KhaosodEnglish