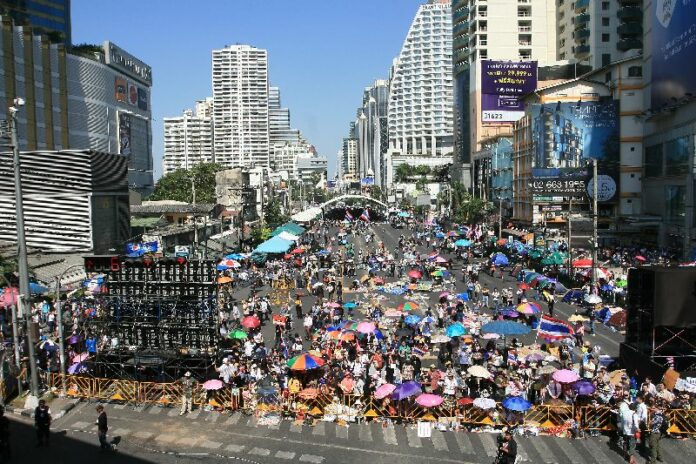 (14 January) PCAD leader Suthep Thaugsuban has suggested that key members of the government evacuate their families "in case of an emergency".
The Secretary General of the People′s Committee for Absolute Democracy With the King As Head of State (PCAD) made the remark on the rally stage at Bangkok′s Asoke Intersection this afternoon, where he also thanked the protesters for their support of his campaign to unseat Prime Minister Yingluck Shinawatra.
It is the second day of Mr. Suthep′s "Bangkok shutdown" operation, in which he vowed to occupy many major intersections, landmarks, and roads in Bangkok until the caretaker government resigns and scraps the 2 February general election.
At the Asoke rally stage, Mr. Suthep stressed that his ultimate goal is to replace the current government with an unelected ′People′s Council′ which would implement "reforms" of Thai political system, and dismissed the report that the government might postpone the election to 4 May.
"We won′t accept it," Mr. Suthep told the crowd, "The election′s postponement, no matter how many months, would be meaningless in the eyes of the people. The people have thought ahead toward Thailand′s reform, and the reform required that Ms. Yingluck Shinawatra steps down first"
After Ms. Yingluck and her entire Cabinet resign, Mr. Suthep said, "political vacuum" and the PCAD will establish the People′s Council, which will implement the "reforms" before any election is held.
Mr. Suthep also mocked Ms. Yingluck′s remark that she has retreated in every possible way, "Let me tell her, it is not our duty to build Ms. Yingluck a ladder so she can step down. How she will step down must be decided on her own. What is clear is that she must step down. She cannot stay."
In the next 2-3 days, Mr. Suthep announced, the PCAD will escalate the campaign to drive her out of office by detaining the Prime Minister and every Cabinet member, while the protesters will march to besiege the residences of Ms. Yingluck and her Cabinet.
Electricity and water to these residences would be cut by the protesters, Mr. Suthep warned.
He added, "The game must end. Therefore, [I suggest] that each Minister sends their children and wives to somewhere else, so they can escape in the case of emergency,"
The PCAD secretary general also named a number of officials he described as core supporters of Ms. Yingluck, such as Minister of Foreign Affairs Surapong Tovichakchaikul, Minister of Labour Chalerm Yoobamrung, and Deputy Prime Minister Plodprasop Suraswadee.
For comments, or corrections to this article please contact: [email protected]
You can also find Khaosod English on Twitter and Facebook
http://twitter.com/KhaosodEnglish
http://www.facebook.com/KhaosodEnglish