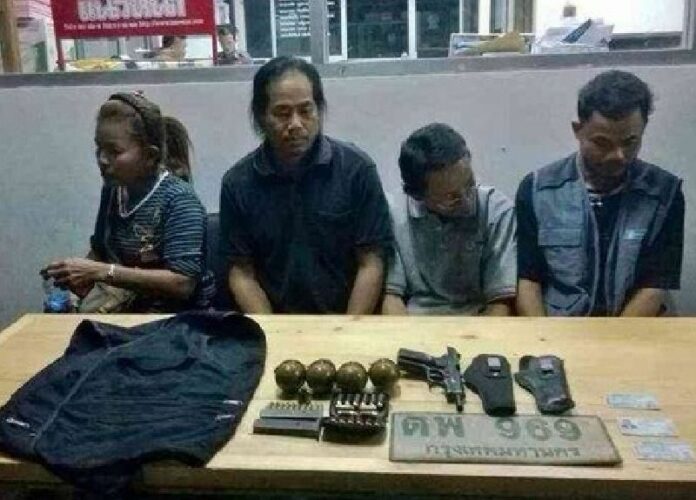 (15 January) Police have arrested suspects thought to be involved in the grenade attack on the residence of former Prime Minister and Democrat Party chairman Abhisit Vejjajiva.
Unidentified individuals hurled a grenade at Mr. Abhisit′s house in Bangkok′s Bangna district last night, causing some damage, but no injury has been reported.
The attack came amid the increasingly tense political fight which pitted the government of Prime Minister Yingluck Shinawatra and the protesters led by People′s Committee for Absolute Democracy With the King As Head of State (PCAD), which is supported by the Democrat Party.
Headquarters of the Democrat Party in Bangkok was also attacked with gunfire by unidentified assailants earlier this week.
Additionally, PCAD protesters near Pathumwan Intersection rally site also came under gunfire attack last night. Two people are reported injured; it is not clear who shot at the protesters.
Following the incident at Mr. Abhisit′s house, police in Bangna police have arrested 4 individuals on suspicion of orchestrating the attack. They were identified as Mr. Anusorn Pinitkhun, 45; Mr. Suna Thinkaew, 53; Ms. Khamprai Saengsawaeng, 45; and Ms. Chanapha Denmart.
Police also reportedly confiscated a number of weaponry carried by the suspects, such as handguns, explosive devices, and a number of ammunition.
Pol.Col. Thawatkiat Chindakuansanong, commander of Bangna Police Station, said initial interrogation suggested that the suspects were not involved in the grenade attack on Mr. Abhisit′s residence.
Nevertheless, he said, the 4 individuals would undergo further investigation.
Later in the day Mr. Abhisit called the attack on his residence and other violent incidents in recent days a political "intimidation". He noted that all targets of these attacks are anti-government figures.
"I don′t know if these events are what the US would describe as restraint," Mr. Abhisit said during an interview with Democrat-allied Blue Sky channel, referring to the statement released by US Department of State which praised the Thai authorities for handling the anti-government protests with restraint.
The Democrat Party chairman claimed that these violent incidents would further erode the legitimacy of Ms. Yingluck′s government, and insisted that the "Great Mass of the People" would not be deterred by these threats.
"It will only escalate the situation," Mr. Abhisit told a Blue Sky reporter. He also criticised the police for failing to locate individuals who engineered violence against anti-government targets.
For comments, or corrections to this article please contact: [email protected]
You can also find Khaosod English on Twitter and Facebook
http://twitter.com/KhaosodEnglish
http://www.facebook.com/KhaosodEnglish