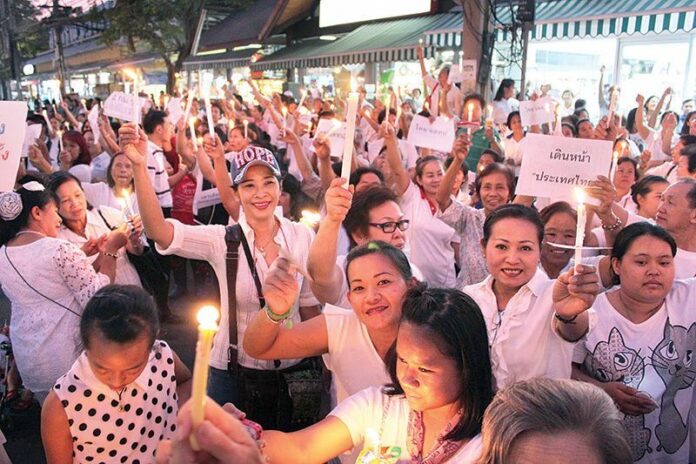 (16 January) While anti-government protesters continue to "shutdown" Bangkok to oppose the 2 February election, thousands in many provinces have staged rallies in support of the election yesterday.
The campaign, which heavily featured placards and signs with the phrase "Respect My Vote", was meant to counter the demands of People′s Committee for Absolute Democracy With the King As Head of State (PCAD).
In Chiang Mai province, more than 2,000 citizens met at Sri Donmoon Temple in Sarapee district to pray for peaceful and harmonious atmosphere to return to Thailand, and affirmed their opposition to any military coup.
The demonstrators, led by Kru Ba Noi Techapanyo, then lit up candles in tribute to the country, before giving alms to Buddhist monks at midnight. Afterward, Kru Ba Noi also showered his followers with holy water for good luck.
The rally coincides with Peng Pud Festival, which falls on the first full moon on Wednesday night. In the festival, Chiang Mai residents give food to the monks by midnight and donated items to poor people.
Here are reports of some of the similar events elsewhere:
Korat People Lit Candles for Democracy
Around 500 Nakhon Ratchasima locals from Bua Yai district, Kaengsanamnang district, Bua Lai district and Sida district, met at Sra Yai pond to light up candles in support for democracy. They had also read their statement to defend democracy and sang The Royal Anthem for His Majesty the King before disbanding peacefully.
Sri-Saket 'Respect My Vote'
At Srisaket Rajabhat University, over 500 students, teachers, officials, and people of different occupation under the name 'White-Gold Democracy', dressed up in white costume and held candle-lit vigil to oppose PCAD′s ongoing campaign against the government. They also demand negotiation from every party in order to lead the country through the current conflict peacefully.
They also expressed their opposition to violent clashes and bloodshed, and called for the respect of democracy, as well as the election on 2 February.
Mr. Pakkhawat Jantasuthiwong also read the group's statement before shouting the motto 'Tranquility, Peace, Democracy' before concluding the events.
Silpakorn Activists Float Tank-Krathong
'Liberal Silpakorn for Democracy' held an event at Silpakorn University, Nakhon Pathom Campus, which was attended by approximately 300 people, to demonstrate their support for democracy and 2 February election.
The event included activities such as sending postcards to Constitutional Court, the Royal Thai Army, and the Office of Election Commission to insist that the election must go ahead.
The group then floated a Krathong made in a shape of army tank into Sra Kaew Pond.
After they had let the floating lantern, the group sang John Lennon's hit 'Imagine' and lit up candle on Sra Kaew bridge to represent their demand. The group then disbanded at around 20.00 pm.
Ying Charoen Market Traders to Light Up Candles Everyday
Meanwhile, 500 Ying Charoen Traders dressed up in white to affirm their support for the Election on 2 February in the event called "No Protest, No Coup, We Need Election".
They yelled 'Election' for several times before lighting up the candles. The group promises to meet everyday until the situation in the country is resolved.
Moreover, approximately 300 Minburi locals in Minburi District of Bangkok met at Minburi Intersection to support the election on 2 February and opposed the shutdown of Bangkok by PCAD. They also plan to meet daily.
For comments, or corrections to this article please contact: [email protected]
You can also find Khaosod English on Twitter and Facebook
http://twitter.com/KhaosodEnglish
http://www.facebook.com/KhaosodEnglish