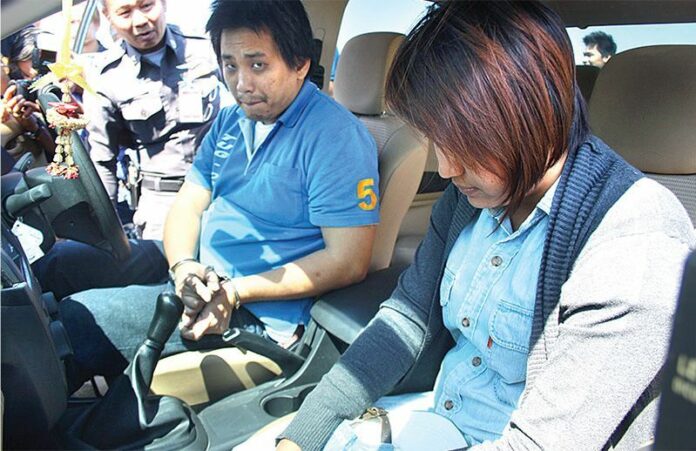 (16 January) A woman has reportedly drowned as she fled from a rescue worker who attempted to rape her.
The investigation started when the body of the victim, later identified as Ms. Chananchida, 28, was found in the canal near Suvarnabhumi Water Gate on Wednesday.
The police were forced to post the picture of her body on the social network to search for her relatives, after they initially failed to identify her. The police were later contacted by Ms. Chananchida′s father, who said the victim was last seen at Foodland grocery mall on Soi Ramkhamhaeng 9.
According to Ms. Chananchida′s father, he has been told by her friend that she fainted at the mall before a rescue worker took her to Ramkhamhaeng Hospital. The disappearance complaint on behalf of Ms. Chananchida was later filed with Hua Mark Police Station.
After Ms. Chananchida′s body was found, the police tracked the witnesses who were with the victim that night. A CCTV footage retrived from Foodland also revealed that after Ms. Chananchida fell unconscious, she was picked up by a rescue worker named Mr. Thawatchai Sae-sim, 31.
CCTV evidences show Mr. Thawatchai placing Ms. Chananchida on the front seat of his car and drove her to Ramkhamhaeng Hospital, but when he arrived at the hospital he refused to get out of his car. Instead, Mr. Thawatchai was seen driving away quickly from the hospital shortly after he arrived.
The police were also assisted by citizens who retrieved Ms. Chananchida′s belongings, which are believed to have been taken by Mr. Thawatchai, at Lad Phrao Temple. The police then arrested Mr. Thawatchai in connection with Ms. Chananchida′s death.
Initially, Mr. Thawatchai reportedly denied the accusation. However, police further interrogated the suspect and asked him for urinal tests, which revealed that he was on drugs.
Mr. Thawatchai later confessed that he was under influence of narcotics when he picked up Ms. Chananchida and intended to sexually assault the victim, so he decided at the last minute at the hospital not to bring her to the doctors.
The suspect said he later drove away from the hospital toward the crime scene. He claimed that he tried to assault the woman along the way, but she reportedly regained her consciousness when they arrived at the scene.
He told police that Ms. Chanathida had grabbed a knife in the car to threaten him. They later reportedly fought for a while before he bit her on her arm, but the victim fought hard. Mr. Thawatchai claimed that her struggle convinced him to let her go.
The suspect said he later sold her belongings to buy drugs, and hid at his friends' residence before he was eventually arrested.
According to Pol.Maj. Thatchai Hongthong, Chief of Samut Prakarn Provincial Police, the case is being treated seriously, as the accused is a volunteer for a rescue team.
Mr. Thawatchai has been charged with attempting to rape, stealing with the aid of a vehicle, possessing radio equipment without authorisation, as well as using illicit substances.
Pol.Maj. Thatchai said the suspect would be additionally charged with rape if post mortem investigation of the victim suggested that she had been raped.
It is also unclear why Ms. Chananthida drowned into the canal, said Pol.Maj. Thatchai.
The police are suspecting two possibilities he said; firstly, the victim may have been panicked after the harassment and attempted to escape the suspect by swimming into the canal, but her strength failed her.
Secondly, Pol.Maj. Thatchai said, she may have been hallucinated from taking too much diet pills; according to her family, Ms. Chananthida had been relying on diet pill for quite a long time, and it may have caused her to be overcome with cramp when she went down into the water.
Pol.Maj. Thatchai added that the police have been contacted by a couple who claimed to have helped Ms. Chananthida during the incident. They claimed that they had helped her on their motorcycle, but Ms. Chananthida panicked and left their vehicle after a while, according to Pol.Maj. Thatchai.
Investigation is ongoing.
For comments, or corrections to this article please contact: [email protected]
You can also find Khaosod English on Twitter and Facebook
http://twitter.com/KhaosodEnglish
http://www.facebook.com/KhaosodEnglish