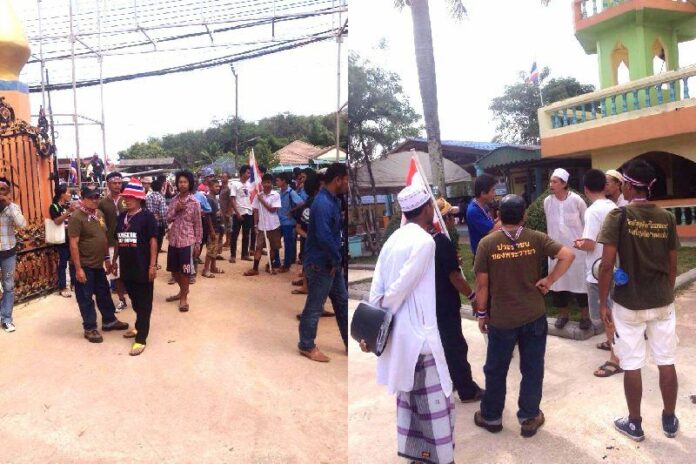 (23 January) Muslim officials have reacted angrily to reports that anti-government protesters disrupted a prayer session at a mosque in Trang province.
The incident, which reportedly took place on 20 January at Sulo Mosque in Palian district, was first reported by Muslim Thai news website.
The news site stated that a group of young children were performing a prayer session and attending religious studies at the mosque when over 300 supporters of People′s Committee for Absolute Democracy With the King As Head of State (PCAD) marched to Solo Mosque, shut down the mosque′s front gate, and loudly blew their whistles.
The protesters reportedly demanded that the Muslims must cease all activities inside mosque immediately, including the religious lectures in the mosque′s religious school.
According Muslim Thai, although a Muslim cleric tried to explain that the religious activities at the mosque cannot be stopped, his explanation was ignored by the protesters, some of whom were allegedly intoxicated.
When the cleric threatened to call a local district chief to resolve the matter, a leader of the protesters replied that he is welcomed to do so, as the protesters will also call their own reinforcements, according to the report. Muslim Thai also alleged that a protester fired a shot in front of Sulo Mosque as a threat.
The Muslims then reportedly decided to cancel the prayer session and religious studies.
The news site also quoted Dr. Wisoot Binlateh, a local coordinator of Sheikh-ul-Islam Office, as saying that the protesters′ act of intimidation is a grave danger to Muslims.
"I feel deeply insulted and hurt," Dr. Wisoot was quoted as saying.
Mr. Saman Liprapat, a Trang-based board member of the Central Islamic Council of Thailand (CICT), told Khaosod that he is similarly angered by the incident.
"The religious activities at the mosque are unrelated to politics," Mr. Saman insisted.
He said he has been informed that PCAD protesters targeted the religious studies at the mosque because they were attempting to close down all state agencies and public schools in the province as a part of region-wide "shutdown" campaign ordered by PCAD leader, Mr. Suthep Thaugsuban.
The religious school, in which more than 500 students are enrolled, at Sulo Mosque teaches both religious studies and public school curriculum, Mr. Saman said, but he added that the protesters have no rights to disrupt the school activities since they were held in the same compound with a place of worship.
"I plan to raise this issue at the meeting of Trang′s Central Islamic Council of Thailand this February for their consideration for further action," Mr. Sama told our correspondent, "We want every person related to this event summoned and explain themselves about what happened".
He also suggested that the Sheik-ul-Islam Office in Bangkok should deliver a statement urging all Muslims to avoid being manipulated by any political side in the ongoing crisis.
Meanwhile, Mr. Sathapon Prathumthong, Palien District Chief, told Khaosod that the Imaam of Sulo Mosque has closed down the religious school for a day on 21 January, but has since resumed its operations.
He said he has discussed the issue with both the Imaam and leaders of the protesters, and gathered that the protesters did not intend to disrupt the religious service at the mosque. PCAD leaders in Trang province are planning to issue a statement of apology, Mr. Sathapon said.
However, Mr. Sompong Kongkliang, a member of Palian Subdistrict Administrative Organisation and a leader of provincial PCAD group, said he has not been informed in details about the incident at Sulo Mosque.
He said he was merely aware that the demonstrators were marching in Sulo subdistrict to close down state agencies and public schools. Nevertheless, Mr. Sompong promised that he would inquire about the matter from other PCAD leaders and reach an understanding with them.
Muslims make up approximately 4-5% of the Thai population, and the southern region of the country is predominantly Muslim.
The southern region is also a major stronghold of anti-government protest movements and their main supporter, the Democrat Party.
For comments, or corrections to this article please contact: [email protected]
You can also find Khaosod English on Twitter and Facebook
http://twitter.com/KhaosodEnglish
http://www.facebook.com/KhaosodEnglish