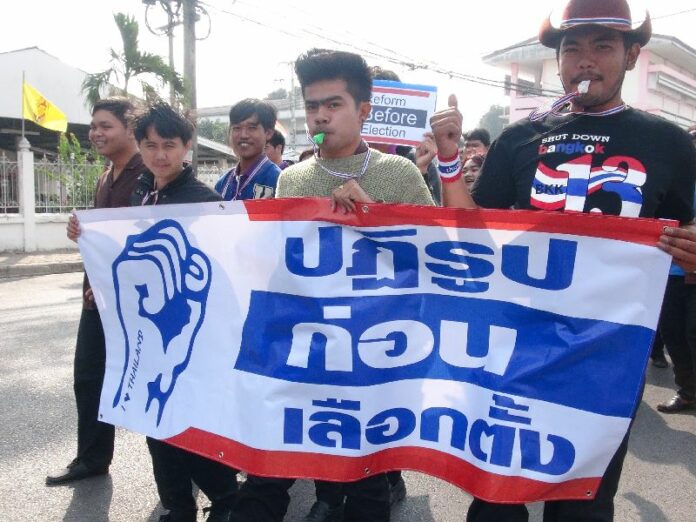 (23 January) Anti-government protesters have laid siege to the Cabinet Publishing and Gazette Office earlier today.
Supporters of the People′s Committee for Absolute Democracy With the King As Head of State (PCAD) departed one of their rally sites in Ratchaprasong Intersection at around 10.00 today without publicly stating their destination.
The convoy, which consists of 1 loudspeaker truck, 32 pick-up trucks and cars, and 10 motorcycles, passed through Ploenchit area and entered the expressway toward Prapa exit. Police officers did not interfere with their movements, and could only predict what the protesters were headed.
Eventually Mr. Chumpol Chunsai, a leader of PCAD, announced that he would besiege the state publishing house and led his supporters along Rama VI Road toward the office, which locates on Samsen Road.
At the Cabinet Publishing and Gazette Office, the protesters demanded that Mr. Amphon Kitti-amphon, Secretary General of the Cabinet, meet with them, but officials at the publishing house stated that Mr. Amphon was not there.
The officials also begged the protesters not to cut off electric supply to the publishing house, as they were required to work on the printing of legislation books, Royal Gazettes, and other documents related to the Bureau of the Royal Household.
The protesters later agreed not to cut off the electric supply, but demanded that all officials must cease their works for a day. The civil servants promptly packed their belongings and left the publishing house.
Last week, PCAD protesters have also besieged another state-owned publishing house to disrupt the printing of ballot papers.
For comments, or corrections to this article please contact: [email protected]
You can also find Khaosod English on Twitter and Facebook
http://twitter.com/KhaosodEnglish
http://www.facebook.com/KhaosodEnglish