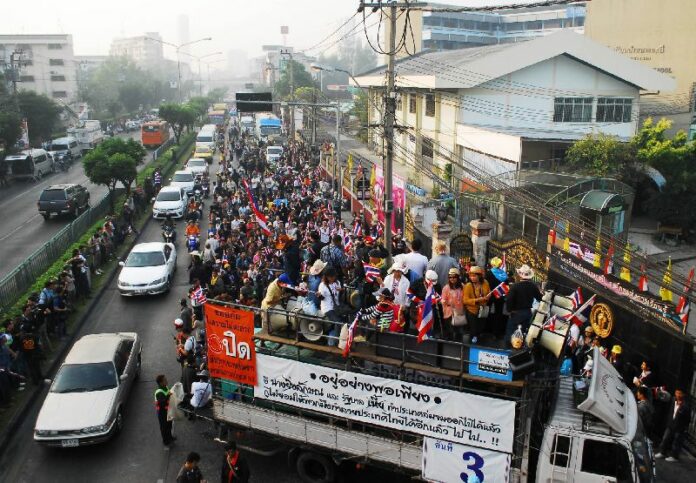 (26 January) Citing protests at the election venues, the Election Commission (EC) has canceled scores of advance voting locations in Bangkok and other provinces.
The move came after hundreds of anti-government protesters led by the People′s Committee for Absolute Democracy With the King As Head of State (PCAD) marched to a number of election venues to disrupt the advance voting for the 2 February general election.
PCAD demands that Prime Minister Yingluck Shinawatra resign from her caretaker position and calls for a formation of an unelected "People′s Council" to rule Thailand as a transitional government. The People′s Council would implement reforms deemed necessary by PCAD leadership before any election is allowed to take place.
Mr. Suthep Thaugsuban, leader of the PCAD, promised last night that he would not obstruct the public′s constitutional rights to participate in the election – but he also included a thinly veiled threats about a campaign to disrupt the advance voting.
"Any residents of Bangkok who plan to go vote … please change your mind," Mr. Suthep said on a rally stage, "You′d better just stay asleep at home, because we are campaigning against the election and proposing reforms for our country".
He added, "We will be up since 6 o′clock [before] you go to election at 8 o′clock. You won′t be able to go past our crowd".
Responding to Mr. Suthep′s call, hundreds of PCAD protesters marched to various election locations in Bangkok, where they rallied and prevented many prospect voters from entering the election booths. The protesters also chained the gates of some election venues, while at many other locations crowd of PCAD supporters blew whistles to frighten away voters.
Some determined voters nevertheless made it to the election booths. A woman was even seen climbing over a chained gate in Suan Luang district to cast her ballot in defiance of the anti-election protesters.
Local Election Commission officials almost immediately cancelled the voting sessions in many of besieged election venues once the protesters showed up, such as the districts of Chatuchak, Bang Bon, Bang Krapi, and Dusit. Protesters cheered as officials announced the decision.
More than 30 out of 50 location venues across Bangkok are now reported closed down.
EC officials in southern provinces such as Krabi and Surat Thani – the heartland of anti-government movements – also announced that they would no longer organise advance voting in these locations.
The EC′s relatively quick surrender baffled many observers, as many questioned why EC directors have not requested reinforcements from the security forces to protect the targeted election venues.
Although the government has recently imposed the State of Emergency to facilitate the deployment of police forces and troops to maintain public order, officials said the responsibility to protect appointed election locations rests solely on the EC.
Any unilateral decision by the government to send security forces to man election venues might be interpreted by EC as intimidation of voting and possible illegal under election laws, according to a number of officials.
Deputy Prime Minister Surapong Tovichakchaikul also expressed his bewilderment at the EC′s reluctance to organise the election.
"EC has promised full cooperation, but today the EC ends up playing tricks by refusing to request presence of security forces," Mr. Surapong told reporters, "It is as though they don′t want the election to take place. I can′t possibly think of any other reason."
For comments, or corrections to this article please contact: [email protected]
You can also find Khaosod English on Twitter and Facebook
http://twitter.com/KhaosodEnglish
http://www.facebook.com/KhaosodEnglish