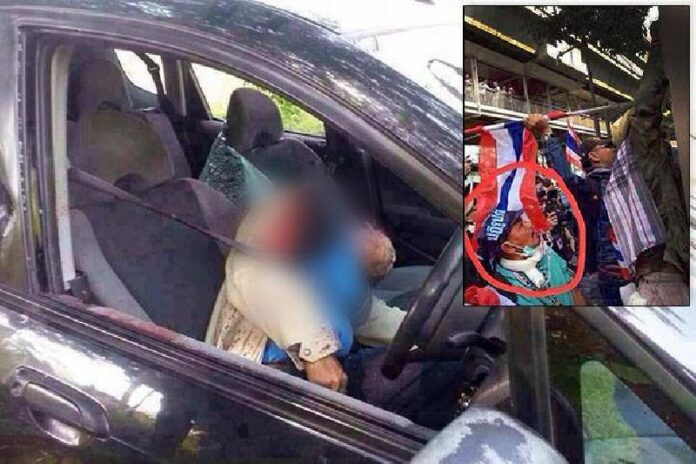 (24 January) The police have dismissed reports that an anti-government protester who vandalised the police headquarters sign had been killed in Ratchaburi province.
In fact, according to police statement, the assassinated man was as Mr. Suppakarn Yoobanyong, 56, who was described by local residents as an influential "gangster".
Mr. Suppakarn, who went by his nickname ′Maew Baanrai′, was found dead on his vehicle at around 13.00 today near his son′s residence in Mueang district. Police said he was shot by a shotgun on his neck and right shoulder. Two shotgun shells were also found in the crime scene.
Witnesses said Mr. Suppakarn was driving home from his son′s residence when unidentified gunmen on a white car approached the victim′s vehicle and opened fire with a shotgun. The suspects quickly fled the scene.
Police have suspected many motives behind the murder, as Mr. Suppakarn had reportedly been involved in many disputes in the province.
Mr. Suppakarn was later identified in the rumour widely circulated on the social network as a protester who helped destroy the signage in front of the Royal Thai Police headquarters earlier this week.
Police spokesman office has released statement denying the rumour, stating that Mr. Suppakarn′s son had confirmed that his father was not present at the protest at the Royal Thai Police.
For comments, or corrections to this article please contact: [email protected]
You can also find Khaosod English on Twitter and Facebook
http://twitter.com/KhaosodEnglish
http://www.facebook.com/KhaosodEnglish