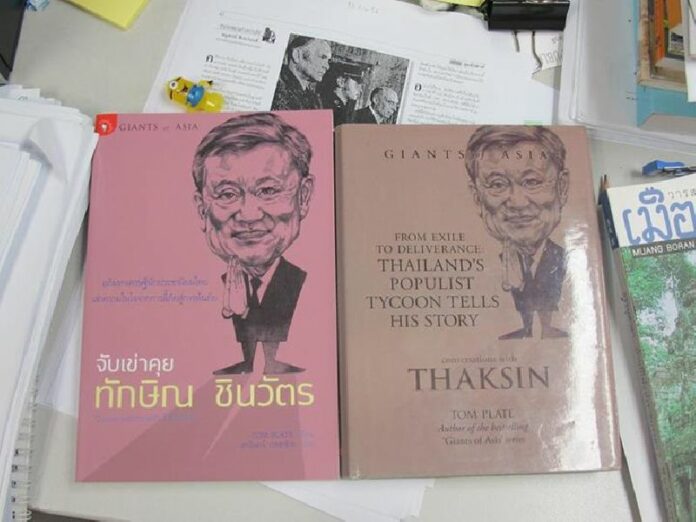 (27 January) Matichon Publishing has refuted the allegation that the company has withheld the publishing of interview records with former Prime Minister Thaksin Shinawatra.
The allegation was put forth by Mr. Somkiat Onwimon, a senior media expert who recently joined the ranks of speakers at protests organised by the People′s Committee for Absolute Democracy With the King As Head of State (PCAD).
During a speech criticising former Prime Minister Thaksin Shinawatra last night, Mr. Somkiat told the crowd that he intended to read to them his translation of a book called "Conversations With Thaksin", which was written by an American author, Tom Plate.
The book is described as a record of hours of interview the author conducted with the ousted leader of Thailand, which, according to Mr. Somkiat, contained "many issues that Mr. Thaksin has spoken that damage [or destroy] himself".
Mr. Somkiat then proceeded to allege that the book is not available in Thailand, because Matichon Publishing holds the publishing rights of the book yet refuses to translate and print the books for Thai audience, implying that Matichon has conspired with Mr. Thaksin to hide the damaging parts in the interviews.
However, a quick
search
on the internet would have informed Mr. Somkiat that Matichon has translated and published "Conversation With Thaksin", under the Thai name of ′
Chab Kao Kui
(Knee-Touching Talk) : Thaksin Shinawatra′, since 2012.
Matichon Publishing named Mr. Suranand Vejjajiva, who is currently serving as the Secretary-General to the Prime Minister Office, as the translator of the book.
Therefore, "Matichon Ltd and Matichon Publish would like to stress that [Mr. Somkiat′s] speech is completely false," the company said in a statement posted on its website.
The company also denied allegation that the book contained some of Mr. Thaksin′s remarks which could be deemed offensive to the monarchy.
Throughout the five sessions of conversation with Mr. Thaksin, each one lasting two hours, Mr. Thaksin has never defamed His Majesty the King in any way, the statement says, citing the author′s foreword in the book.
Matichon, the owner of Khaosod newspapers, has been regularly accused by anti-government critics of harbouring pro-Thaksin agendas.
For comments, or corrections to this article please contact: [email protected]
You can also find Khaosod English on Twitter and Facebook
http://twitter.com/KhaosodEnglish
http://www.facebook.com/KhaosodEnglish