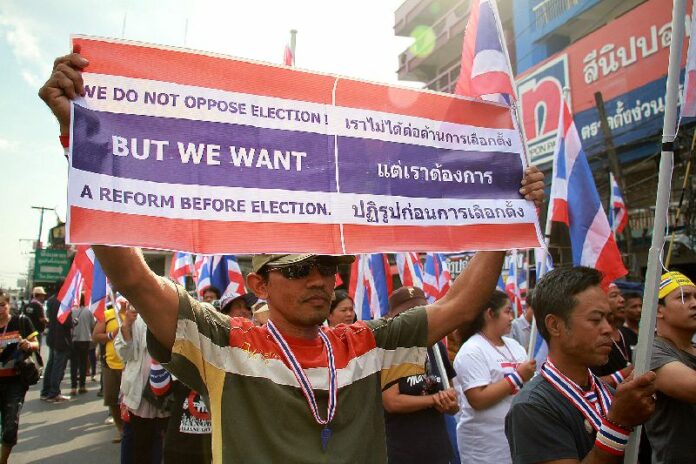 (31 January) Pheu Thai Party has resigned to the possibility that result of 2 February election would be invalidated by the court, said an official.
Mr. Phokin Palakul, director of the party′s strategy division, said he is confident that individuals hostile to the government would file the request to the Constitutional Court, claiming that the election was organised in unconstitutional manner.
And the court, Mr. Phokin believes, would certainly comply with the request.
"There′s 1,000,000% possibility that the Constitutional Court would invalidate the election," Mr. Phokin said, "On the ground that the election was not held in the same day throughout the Kingdom".
He added bitterly, "It′s all a deliberate ploy to create problematic conditions in order to seek verdict from the Constitutional Court".
Nevertheless, Mr. Phokin said the government would still stick to the 2 February election despite the likely constitutional challenge.
Mr. Phokin′s remark came after anti-government protest leader Suthep Thaugsuban urged the public not to participate in 2 February election as the poll outcome would be declared unconstitutional anyway, citing the government′s vow that voting in troubled areas can take place on different days in the future.
Supporters of the People′s Committee for Absolute Democracy With the King As Head of State are blocking election venues and poll equipment in a number of southern provinces.
However, Mr. Phokin insisted that the court does not have the power to invalidate the election result based on the different days of voting alone.
"If they [the judges] rule that election must be done on one day across the Kingdom, I want to ask them, what about the advance voting and overseas election?" Mr. Phokin said, "If the verdict is out this way … all election results in the future would have been invalidated. This amounts to building a wrong standard of practice".
According to Mr. Phokin, the strategy is adopted by a number of groups which conspire with each other to overthrow the election.
"We have seen this at work for 2 weeks already. Many senior legal experts also gave interviews in this pattern. This kind of [trick] is evil, because it is based on personal dislike of Mr. Thaksin, but they are willing to destroy the whole country," Mr. Phokin said, referring to former Prime Minister Thaksin Shinawatra.
Asked about the Election Commission′s (EC) warning that they might not be able to announce the election result even after the poll took place, Mr. Phokin retorted that "the EC tries to cause every problems in the election, but they don′t bother to solve any of the problems".
He asked, "Do these people deserve to function as EC?"
For comments, or corrections to this article please contact: [email protected]
You can also find Khaosod English on Twitter and Facebook
http://twitter.com/KhaosodEnglish
http://www.facebook.com/KhaosodEnglish