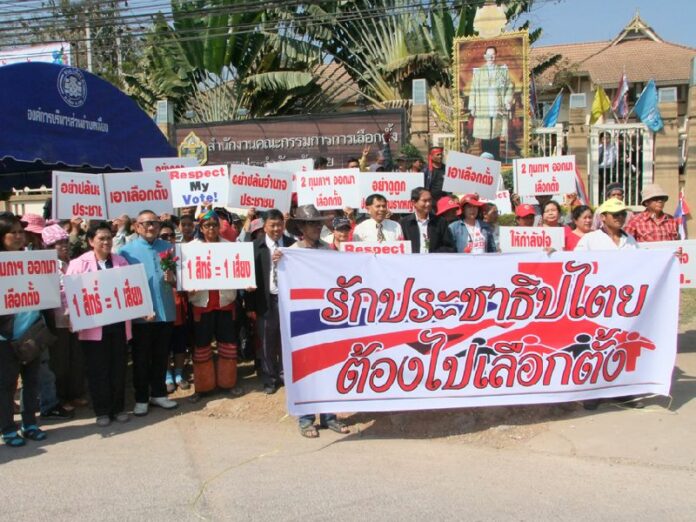 (31 January) Anti-election protesters' attempt to besiege an Election Commission (EC) office in Loei province has been thwarted by a group of Redshirts.
Around 200 Redshirts, led by Ms. Atchima Saengsuwan, who is also known as DJ. Dokkhoon, rallied around the office and held placards condemning the campaign to disrupt 2 February election by the People′s Committee for Absolute Democracy With the King As Head of State (PCAD).
Some Redshirts also held banners in support of the election on 2 February, which PCAD seeks to disrupt, citing the need for Thailand′s "reform" before any election can take place.
The group later handed roses to Loei EC officials and submitted a statement on behalf of 'Loei People Love Democracy Group' to Mr. Natchaphon Chalermsri, Director of Loei Election Commission Office.
In their statement, the group voiced their disagreement with PCAD′s actions, such as disrupting the advance voting on 26 January and occupying a number of governmental offices, which led to "intense polarisation of the nation".
The statement also branded PCAD as "undemocratic" and acting against the decision of His Majesty the King, who had agreed to sign the bill which approves the election on 2 February.
'Loei People Love Democracy' further urges the Loei Election Commission to proceed with the election on Sunday.
The gathering of Loei's Redshirts group appeared to have upset the provincial PCAD supporters, who initially planned to besiege the EC office, and they were forced to moved their demonstration to the City Hall, opposite Loei Hospital.
The demonstrators consisted of approximately 50 PCAD supporters.
After their leaders gave speeches via loudspeakers denouncing the 2 February election, Pheu Thai Party, and Prime Minister Yingluck Shinawatra, officials from the nearby Loei Hospital met with the group and asked that they move their demonstration, as many patients were reportedly disturbed by the noise.
PCAD leaders initially refused, but eventually marched to Lang Ban Tiew Market in Loei Municipality at around 14.30, where they peacefully dispersed.
For comments, or corrections to this article please contact: [email protected]
You can also find Khaosod English on Twitter and Facebook
http://twitter.com/KhaosodEnglish
http://www.facebook.com/KhaosodEnglish