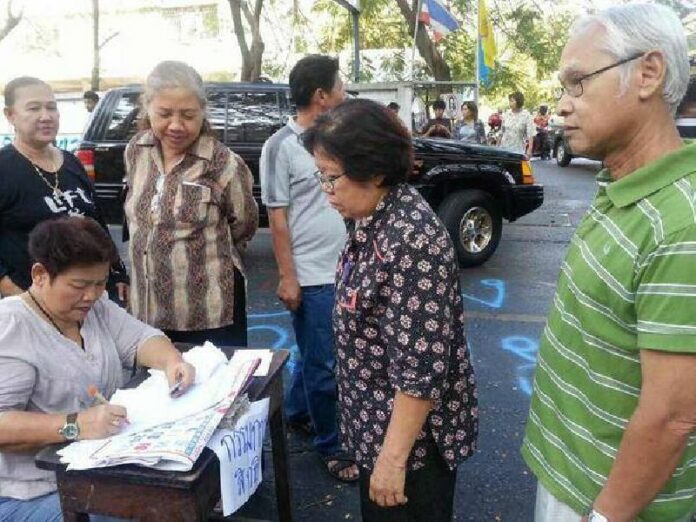 (2 February) Upset by the Election Commission′s failure to organise the voting, residents in Bangkok′s Ratchathewi district took matters to their own hands.
The EC has previously announced all polling stations in the district to be closed down after anti-election protesters surrounded the Ratchathewi district office to block distribution of ballot boxes and other equipment.
The protesters, led by the People′s Committee for Absolute Democracy With the King As Head of State (PCAD), demand that the 2 February election be scrapped to pave way for the formation of an unelected "People′s Council" which would rule Thailand as a transitional government.
However, many residents in Ratchathewi district voiced their anger toward PCAD protesters for obstructing their voting rights, and toward the EC officials who, in their opinion, conspired with PCAD by neglecting their duty to organise the voting.
Some of these frustrated voters decided to express their anger by setting up a "parody" polling station in Soi Yothee, where residents were invited to cast mock ballots at the election booths manned by the locals.
Although the votes would not be counted as legitimate ballots, organisers of the event said, the gesture should serve as a reminder for EC officials that they have failed their duties.
Mr. Pichai Nariptapan, a former Minister of Energy and one of the voters who could not vote in Ratchathewi district, said he showed up at the polling station in his registered area only to find it empty. He added that he is deeply disappointed by PCAD protesters.
"Obstructing the exercise of voting rights is robbing, and it is illegal," Mr. Pichai told our correspondent.
Another prominent voter who could not cast the vote was M.R.W. Malinee Chakrabandhu, a member of the Thai aristocratic class.
She said she was prevented from voting at the polling station in Soi Thong Lo 2, Tawee Wattana District due to insufficient number of EC officials, and later filed a notice at Thong Lo Police Station to document the alleged obstruction against her voting rights.
Ms. Malinee has been voicing her opinion against protests led by PCAD in recent weeks, including an interview with the New York Times in which she said she was made a "black sheep" in her family because of her views.
Upset by the no-show at the polling station, Ms. Malinee took foreign journalists to witness the empty election unit and reflect "what has happened to Thai democracy". She added that the United Nations, the US, and the UK should have "aided" Thai government′s effort to organise the election, citing their "democratic strength".
"Whoever disrupted the election is evil. I do not know why they would do it. I support democracy, but they support Dictatorship, which is ugly", said Ms. Malinee,
In a possible swipe at MRW Sukhumbhand Paripatra, the Governor of Bangkok who is accused of supporting PCAD protests, Ms. Malinee told reporters that "I wish another MRW who support the other party would just declare his view like I did,"
Ms. Malinee also wished to pass her message to the Election Commission that their reluctance to perform their duty would only worsen the situation.
"They should all resign" stated Ms. Malinee.
For comments, or corrections to this article please contact: [email protected]
You can also find Khaosod English on Twitter and Facebook
http://twitter.com/KhaosodEnglish
http://www.facebook.com/KhaosodEnglish