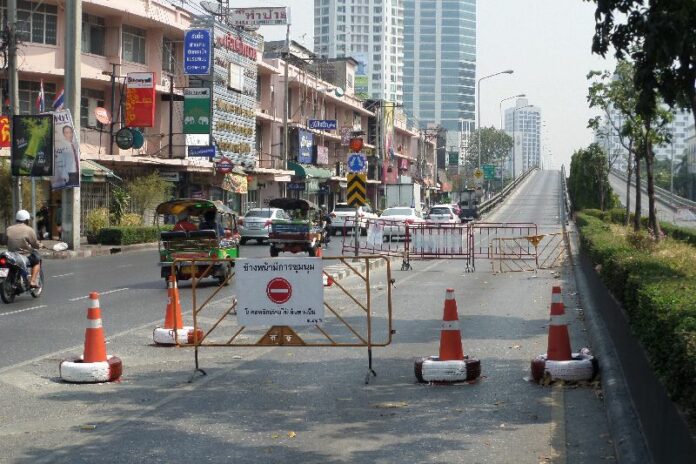 (3 February) The police have advised motorists to stay clear of anti-government rally sites after one driver had been reportedly shot for approaching one of their campsites.
The incident took place on Thai-Japan Bridge in front of Wat Hua Lamphon Temple at around 22.00 last night, the police said in a statement, near a protest campsite maintained by the People′s Committee For Absolute Democracy With the King As Head of State (PCAD).
Mr. Praphan Promvisit, 33, said he was driving home from Samyan market when he took the wrong turn by entering the Thai-Japan Bridge, as he was unaware that the bridge has been occupied by PCAD guards. Several other motorists also reportedly followed his lead onto the bridge, thinking the bridge was open to traffic.
Mr. Praphan later ran into a "bunker" manned by PCAD militants in the middle of the bridge, so he rolled down his window and gestured at other drivers to back up their vehicles.
However, three shots were fired from the direction of the bunker shortly afterwards, according to Mr. Praphan. The bullets slammed into the car′s window shield, with one of them grazing Mr. Praphan′s ear, narrowly missing his face by an inch.
The man was later transported to a nearby hospital to treat his injury.
Responding to the incident, Pol.Maj.Gen Ake Angsananond, deputy chief of the Royal Thai Police, said he has instructed police officers to set up checkpoints near Thai-Japan Bridge and other roads leading to PCAD rally sites, in order to dissuade motorists from approaching the protesters.
He made no mention of any effort to identify or arrest the alleged gunmen.
For comments, or corrections to this article please contact: [email protected]
You can also find Khaosod English on Twitter and Facebook
http://twitter.com/KhaosodEnglish
http://www.facebook.com/KhaosodEnglish