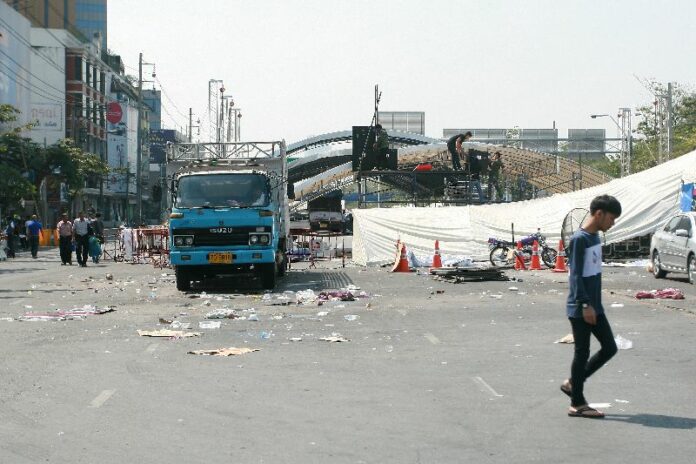 (3 February) Anti-government protesters have left key rally sites at Victory Monument and Ladprao Intersection after more than 20 days of prolonged occupation.
The decision was announced yesterday by Mr. Suthep Thaugsuban, leader of the People′s Committee for Absolute Democracy With the King As Head of State (PCAD), citing numerous violent attacks against protesters in the two locations.
Since PCAD occupied both locations on 13 January, unidentified assailants have mounted bomb attacks and drive-by shootings at the protesters almost on a nightly basis, in spite of security checkpoints set up by PCAD guards around the areas.
The most serious attack occurred on 19 January when a grenade was lobbed at a group of protesters at Victory Monument, injuring a number of demonstrators, vendors, and journalists.
PCAD leaders also acknowledged that both areas are connected with many alleys, roads, and bridges, permitting perpetrators to escape undetected after each attack.
The "relocation" started this morning when Mr. Suthep and his entourage arrived at Ladprao Intersection this morning and led the protesters down Phaholyothin Road toward Victory Monument, where they linked up with more protesters who had been camping there for weeks.
The combined group later marched to join another PCAD rally at Lumpini Park and Saladaeng Intersection, passing through other PCAD rally sites at Pathumwan and Ratchaprasong intersections. The protesters arrived at their destination at approximately 15.30.
The march of the protesters had caused heavy traffic in several areas.
Before the march, many protesters were seen packing their belonging items. Some helped dismantling stage equipment, as well field as kitchen equipment, and storing them into big trucks, which would carry the items to Saladaeng Intersection.
Meanwhile, PCAD guards were tasked with removing heavy equipment such as projector and stage. Others dismantled "bunkers" made of sandbags and car tyres which served as security checkpoints. The guards worked quickly, in order to allow traffic police to re-open the roads to the public as soon as possible.
It is reported that these areas have been re-opened to traffic by 15.00 today.
For comments, or corrections to this article please contact: [email protected]
You can also find Khaosod English on Twitter and Facebook
http://twitter.com/KhaosodEnglish
http://www.facebook.com/KhaosodEnglish